Formal gardens are an outward expression of a great estate's grand design. By imposing order and symmetry on nature, their designers sought to delight—and impress. And impress they did!
The Palace of Versailles's gardens are integral to its overall design. Louis XIV's principal gardener and landscape architect, André Le Nôtre, organized the gardens on two axes, creating the illusion of an infinite vista called "the Grande Perspective."
In 18th-century England, a new perspective emerged: While Palladian order and symmetry defined such great country houses as Blenheim Palace, the English landscape designers used great artifice to imitate nature. Their rolling parklands, punctuated by copses, reflecting pools, fountains, ponds, and serpentine lakes, were all as rigorously composed as a great symphony.
Lancelot "Capability" Brown, England's greatest gardener, compared his designs to the structure of a sentence: "There I make a comma, and there, where a more decided turn is proper, I make a colon; at another part, where an interruption is desirable to break the view, a parenthesis; now a full stop, and then I begin another subject."
Herewith, we present a few sentences on five homes with magnificent formal gardens designed in the French and English traditions, and some exquisite variations on our theme.


1.

Wave

r

ley

in

Foxrock

, Dublin, Ireland




This fine red-brick house in County Dublin has a beautiful garden, the elements of which were designed over the years by two notable landscape architects, Diarmuid Gavin and Paul Doyle.
Waverley is a luxurious family home on an acre of bucolic gardens in the leafy South Dublin suburb of Foxrock.
The fine red-brick house offers 7,513 square feet of lavishly appointed interiors with seven bedrooms and seven full bathrooms. Built in 1999, the property was extended and redesigned by the current owners in 2006.
The result is a thoroughly modern home with all the creature comforts for contemporary living. There is a vast, open-plan family room, a bright gourmet kitchen designed in the style of an orangery, an owner's suite, a cinema room, a gym, and a walnut-paneled office.
The landscaped gardens, designed first by Diarmuid Gavin and later by Paul Doyle, are special: Their centerpiece is a long lawn bordered by 13-foot-high cylindrical hornbeam trees interspersed with yew hedges and buxus ball topiaries for a touch of whimsy. A birdcage-shaped iron pergola and a timber gazebo add to the charm.


2.

Italian-inspired Mansion

in Beverly Hills, California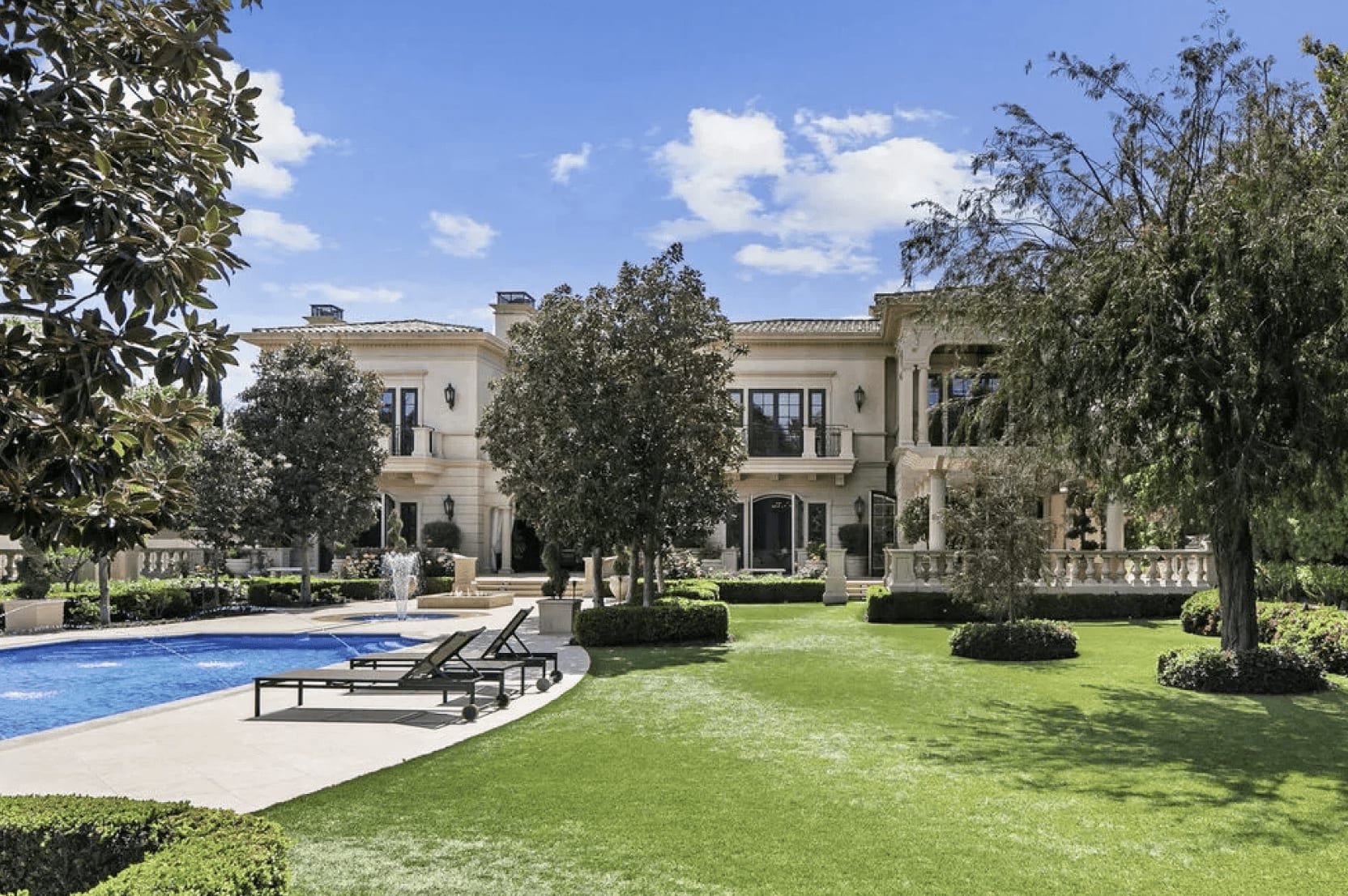 AIA architect Richard Landry designed this Beverly Hills mansion and its resplendent Italianate gardens, anchored by a classically inspired swimming pool.
This timelessly elegant estate presides over 0.75 acres of splendid formal gardens in Beverly Hills.
The main residence is a grand, Italian-inspired mansion designed by Richard Landry, an architect to the stars.
The 20,422-square-foot interior is masterfully crafted throughout. Among the ornate details are marble inlay floors, decorative ceilings, and hand-carved fireplaces. Appointments include a formal living and dining rooms, an office/library, 400-bottle wine room, and a chef's kitchen with a breakfast space.
On the upper floor, the primary suite and four guest suites each have a private foyer, marble bath, and custom closets. An elevator serves all floors, including the lower level, which houses an audio/video room, storage room, staff suite, and subterranean car-collector's garage with room for 12 vehicles.
The home is equipped with Crestron technology for security, communications, environmental, and entertainment controls.
Outdoors is a spectacular 54-foot-long swimming pool with a raised spa, fire pit, and fountains, set jewel-like within immaculate gardens with covered terraces, and wide, sweeping lawns bounded by box hedges, rose beds, and specimen trees.


3. Château de Cuarnens in Vaud, Switzerland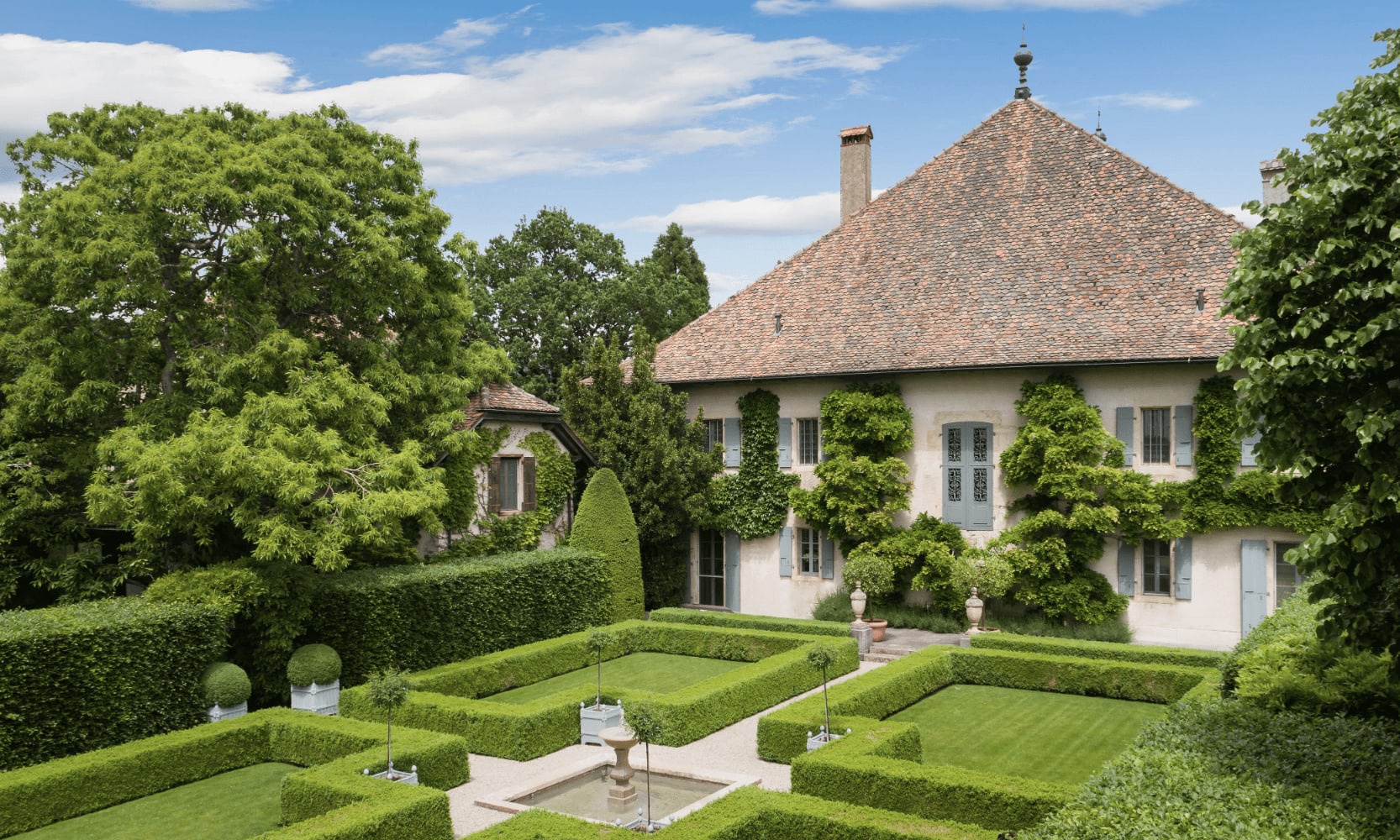 Bounded by rolling countryside, this 17th-century château's formal gardens, with their striking geometric design, boxwood borders, elegant walkways, and stone fountain, reflect the order and symmetry of the jardin à la française gardens of 18th-century France.
This historic estate is at one with its serene parklike setting in the Vaud countryside. The focal point of the six-acre grounds are the elegant formal gardens, a sanctuary of peace and privacy secluded by the meadows and woodlands that lie beyond.
Château de Cuarnens was built in the 17th century. The stately 10,225-square-foot residence underwent an extensive restoration in 2000 by the present owners, who added luxurious modern touches while retaining the elegance of the original design.
Decorative woodwork, parquet floors, and ornate fireplaces grace the reception rooms. The hunting room harks to the past while the professional-grade kitchen is a contemporary addition. A grand, sweeping staircase leads to the upper-floor private quarters, comprising four sumptuous en suite bedrooms.
The top floor houses a handsome wood-paneled library and an attic with ample storage space. This pastoral retreat is a world away yet close to Geneva Airport and the city of Lausanne.


4. Majestic Manorial Villa in the Florentine Hills, Tuscany, Italy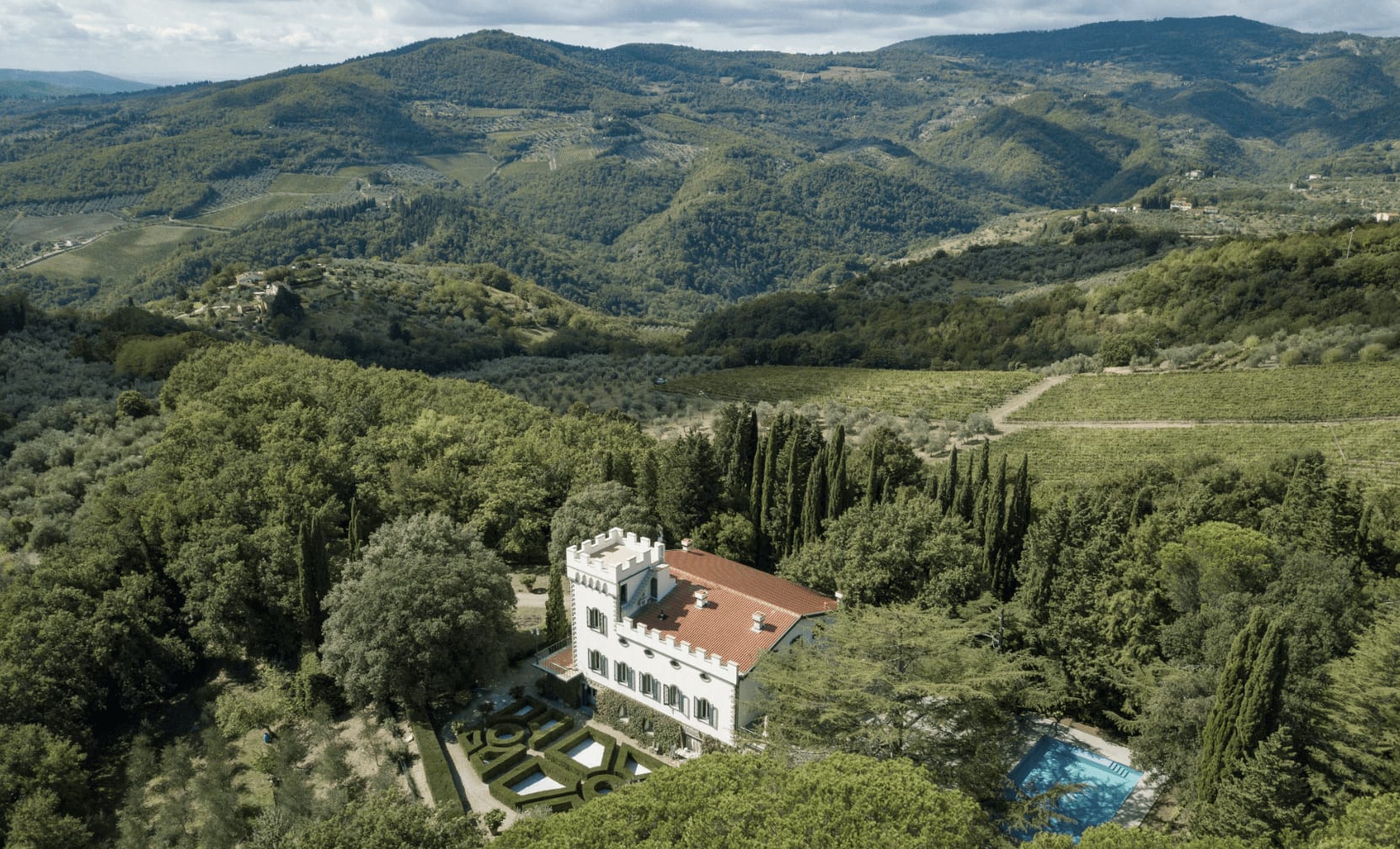 An earthly paradise awaits at this fortified manor in the hills above Florence. The property is ensconced within idyllic private grounds of wooded parkland, an olive grove, and Italian formal gardens framed by the Tuscan landscape.
This fairy-tale estate is a private paradise overlooking the Florentine Hills in the heart of Chianti wine country.
The beautiful baronial manor house rises three stories to a crenelated tower overlooking the countryside.
Inside are 7,000 square feet of museum-quality interiors adorned with frescoes, carved wood beams, traditional Florentine fireplaces crafted from local Pietra Serena sandstone, and terracotta tile floors.
Among the delightful features is an orangery, which opens to a formal Italian garden. Nearby is a mosaic-tiled saltwater pool surrounded by a paved stone terrace.
The grounds encompass nearly five acres. The tree-lined gardens grant privacy and shade under the Tuscan sun. The remaining land is composed of specimen trees, colorful flowers, and an olive grove producing a small quantity of olive oil for personal use. A private chapel completes the picture.


5. Luxurious Family Estate in Jersey, Channel Islands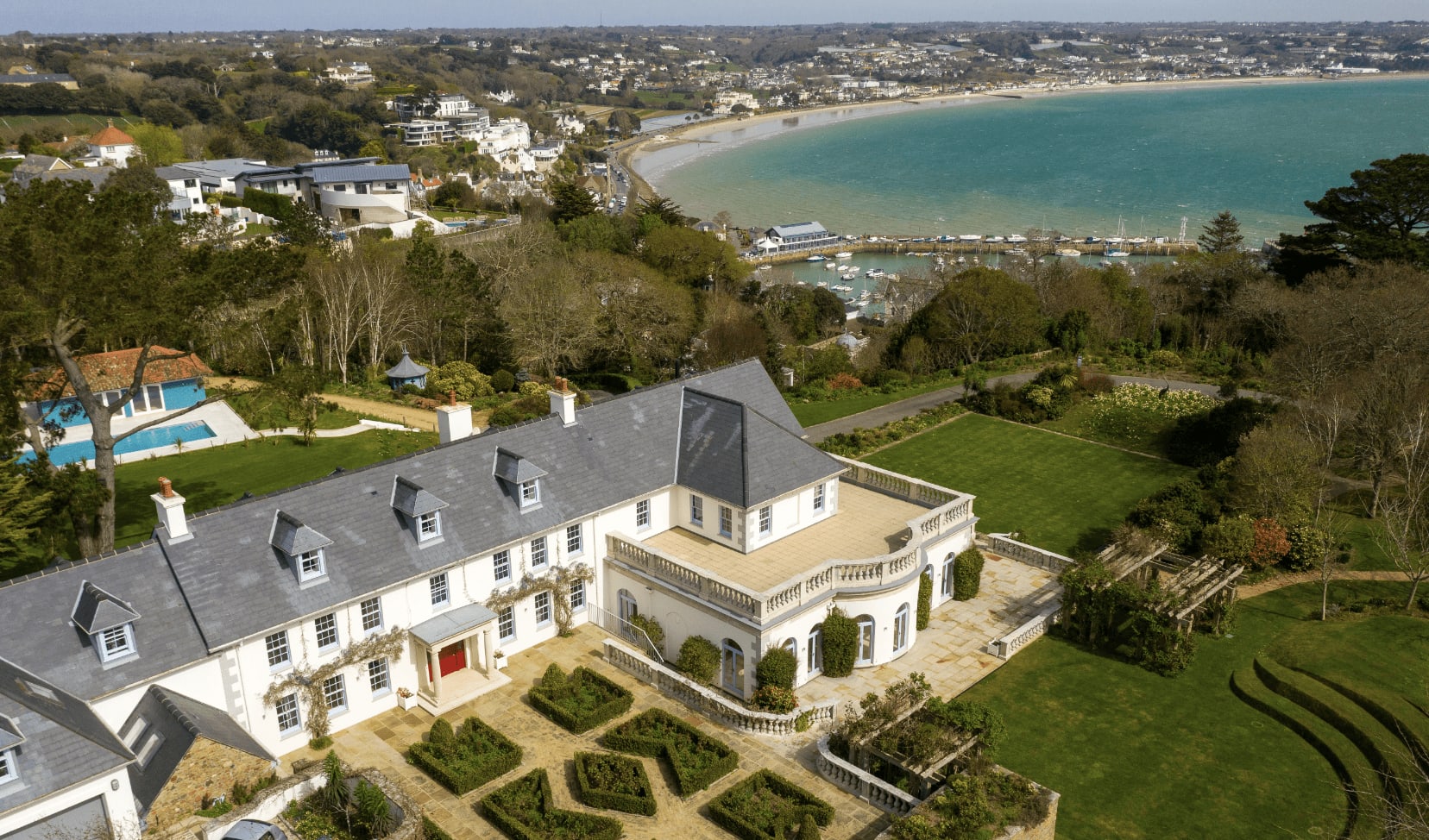 Lawned amphitheaters, such as this fine example in St Brelade, Jersey, were a prominent feature of English landscape design until the mid-18th century. It is reminiscent of the amphitheater at Claremont House in Surrey, England, designed by Charles Bridgeman in 1716 and extended by William Kent in 1738.
This elegant manor house in the sought-after enclave of St Brelade in Jersey, Channel Islands, reposes on three acres of landscaped grounds above the tranquil expanse of St Aubin's Bay.
The 10,000-square-foot main house is a fine example of traditional Jersey architecture that has been tastefully renovated and extended for the 21st century.
There are five bedrooms and six full bathrooms, and a sunny, south-facing aspect with sea views. The owner's suite includes a mezzanine level, two dressing rooms, en suite bathroom, and an extensive terrace that overlooks the garden and bay.
The vast, contemporary kitchen adjoins a dining space with large doors that open to a terrace and the gardens beyond.
The walled grounds include a newly installed swimming pool, a sauna, steam room, gym, and garaging. Wide terraces and gardens, both formal and natural, invite quiet contemplation, but the magnificent lawned amphitheater begs for a Bach string concerto or a rousing performance of The Tempest.