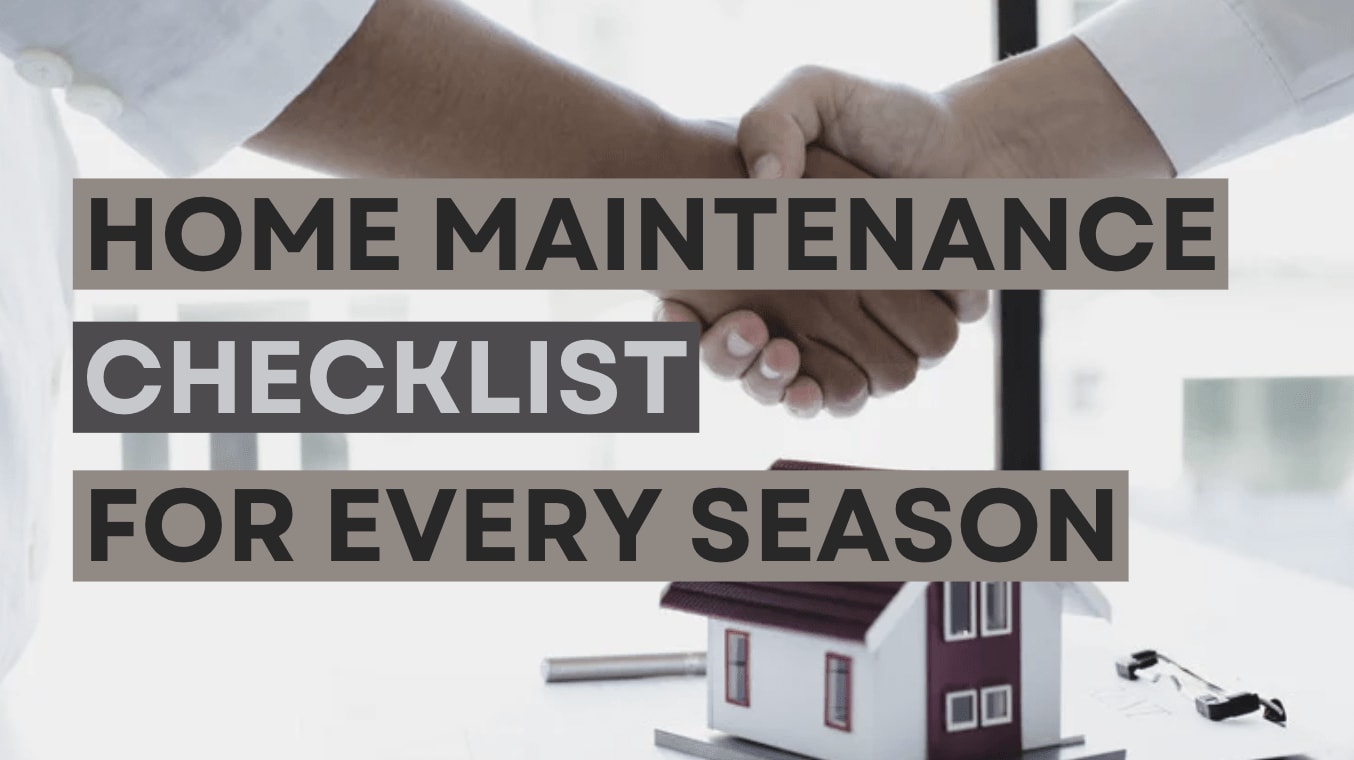 Owning a home is a rewarding experience, but it also comes with responsibilities—chief among them, the regular maintenance that seems to come from nowhere at a moment's notice that would otherwise be swept under the rug. We all know it exists, and begrudgingly have to keep up with it, regardless of if we want to or not.
To keep your home in top condition and to prevent small issues that later will turn into large problems—problems that become increasingly costly—it's essential to follow a year-round home maintenance checklist. We'll walk you through these seasonal tasks to ensure that your home remains a safe, comfortable, and well-maintained haven throughout the entire year!


Autumn: Preparation and Protection
Clean and Inspect Chimneys and Fireplaces

: Before you lock yourself in for the fall and winter seasons, for heating, ensure the chimneys and fireplaces are maintained and safe for use. They can be incredibly dangerous if not.

Clean and Store Outdoor Furniture

: Protect your outdoor furniture from winter weather and snow by cleaning it of leaves, and storing it properly, whether that's in a garage, a basement, or a storage unit.

Check Smoke and Carbon Monoxide Detectors

: You should be doing this monthly, but it is the most important in the fall before the season comes to a close and you're leaving your house less. Replace any dead batteries and run a beeping test to ensure detectors are working and are in order.

Inspect and Clean Gutters

: This will have to happen multiple times a year, as blockages can happen at any time, but is most important to do during the fall as the leaves shed from the trees. Clear plant material, leaves, and any other debris to prevent clogs and damage that can arise from leaving the gutters neglected.

Winterize Exterior Faucets and Irrigation: Drain and shut off water to the outside, preventing damage that arises from frozen pipes.


Winter: Coziness and Safety
Furnace Maintenance

: Have your heating system serviced by a professional HVAC workman to ensure that there are no issues and the system is heating the home properly all the way through.

Seal Gaps and Insulate

: Prevent drafts by sealing gaps around windows and doors. Add insulation where needed, this can save you a lot of money on heating and cooling!

Test and Inspect Snow Removal Equipment

: Before the big storm hits and you have to shovel a tunnel from your door to your driveway, act preemptively by keeping up with snow shoveling, salting, and putting gas in or charging up your snow blower.

Prevent Ice Dams

: Properly insulate your attic and roof to prevent the formation of ice dams, which lead to lots of expensive damage and leaks.

Prep an Emergency Kit: The winter and its weather are unpredictable. Assembling an emergency kit with essential supplies like flashlights, batteries, non-perishable food, and blankets stored somewhere for easy grabs is important.


Spring: Renewal and Refreshment
Inspect the Roof

: Check for any signs of water or snow damage from the winter season, as well as for any loose or cracked shingles. Addressing roof issues promptly can prevent leaks, internal structural damage, and other extensive repairs that can happen from a disrepaired roof.

Clean Gutters and Downspouts

: Remove any debris caught up to prevent water damage and guarantee proper drainage.

Inspect Windows and Doors

: Check for drafts or condensation build-up. Run your fingers along the seam or caulking to make sure the seal is airtight underneath. Replace weather stripping as needed.

Service Your HVAC System

: Schedule a professional to clean and service your heating and cooling system, preparing it for the upcoming season of air conditioning!

Landscaping: Trim all trees and shrubs in and around the property, clear dead plants, and plan for spring and summer landscaping projects (be that they exist).


Summer: Enjoyment and Efficiency
Deck and Patio Maintenance

: Inspect outdoor living spaces and clean accordingly, including decks, patios, and even consider power-washing any cement in the drive or entryway. Seal or re-stain any wood surfaces to protect them from the elements.

Check for Leaks

: Anything that lives in the yard outside needs attention come summertime. Inspect hoses, faucets and spigots, as well as the sprinkler system (if you have one) for leaks and repair them promptly.

Seal Cracks in the Driveway

: Prevent further structural damage by filling cracks in the cement of all drive and walkways.

Clean and Service the Air Conditioner

: No one wants to get stuck with a faulty air conditioner while the temperature outside is steadily climbing into the 90s. Change filters regularly and consider a professional tune-up for optimal efficiency.

Pest Control: Be proactive in preventing pests by sealing cracks, cleaning up food sources, and, if needed, consider calling an exterminator if there are any out of hand problems.


Year-Round: Ongoing Maintenance
Regular Cleaning

: This is an obvious one, but keeping your home clean year-round can help it feel more manageable while also preventing dust, dirt, and allergen build-up.

Check for Water Leaks

: Regularly inspect (quarterly, minimum) for signs of water leaks, as even minor leaks can lead to mold and structural damage, costing you thousands.

Test Alarms

: You can never be too safe. Test smoke and carbon monoxide detectors monthly and replace batteries as needed.

Appliance Maintenance

: Follow manufacturer recommendations for cleaning and maintaining appliances like the refrigerator, the stove and oven, and the washing/drying machines.

Review Home Insurance: Periodically review and update your home insurance policy to your current lifestyle, ensuring it adequately covers your needs.


By following this year-round home maintenance checklist, you can keep your home in excellent condition, protect its value (or make it more valuable with upkeep), and ensure the safety and comfort of your family. Remember that routine maintenance is often more cost-effective than major repairs are, so investing the time and effort while you're ahead can pay off in the most efficacious ways in the long run.