The joy of owning a luxurious lakeside home means unlimited access to nature and endless recreational possibilities—in, on, under, and near the water: sailing and powerboating (with little risk of getting lost at sea), waterskiing, freshwater fishing, snorkeling, and scuba diving. And don't forget the simple pleasure of lounging on your own private dock and basking in the sun.
When northern winter comes, lace on the skates, go ice-fishing, perhaps, or relax by a cozy fire—aprés-ski style.
All the homes in this Luxury Defined collection offer spectacular lake views, with exquisite creature comforts for guest and resident alike.


1.

Lake House on Lake

Morenito

,

Bariloche

, Argentina

This Patagonian lake house is at one with its breathtaking setting on the doorstep of Nahuel Huapi National Park. 
This contemporary lake house in Argentine Patagonia has a front-row view of Lake Morenito and Mount Tronador, an extinct stratovolcano in the southern Andes.
The 4,844-square-foot home was built from local stone and lenga wood, in keeping with the local aesthetic.
At the entrance, a dramatic stone arch opens to the main living room, where a vast picture window frames a picture-postcard view of the lake. The formal dining room, with its lenga wood-beamed ceiling, is served by a chef's kitchen with top-of-the-line appliances.
A staircase leads down to the family room and a wooden deck to take in the views. A separate dwelling, designed in the style of the main house, offers two additional bedrooms and a garage.
The wooded, landscaped grounds are a haven of tranquility with rose and lavender gardens, old-growth trees, and several lakeside terraces. Beyond are the protected waters of Lake Morenito—a paradise for swimming, boating, and paddle boarding.


2.

Aloha Lodge

in Lake Geneva, Wisconsin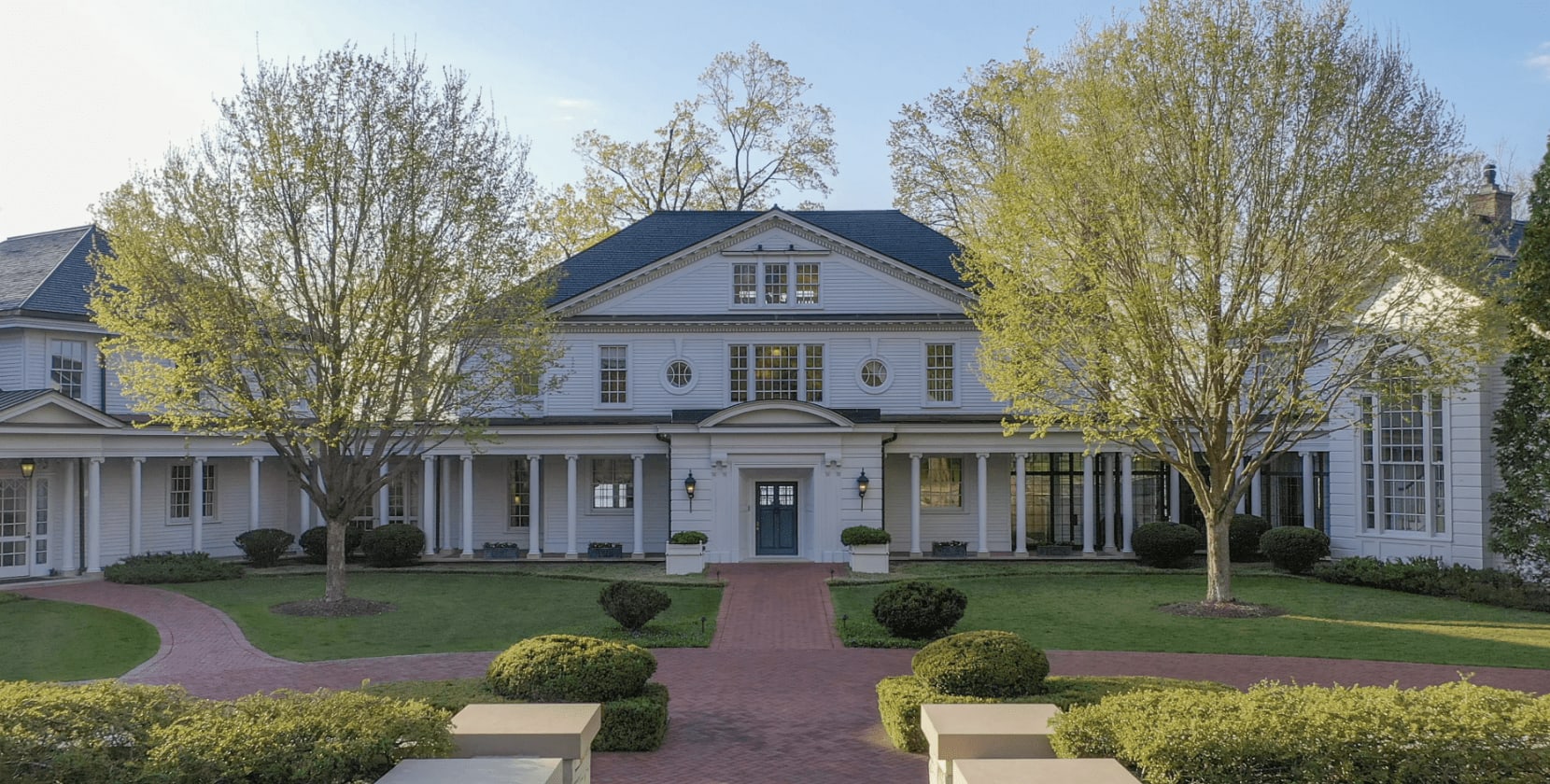 Aloha Lodge, a magnificent estate on the southern shore of Wisconsin's Geneva Lake, was built in 1900 for the Drake family, founders of Chicago's legendary Drake Hotel. 
This rambling, classically colonnaded estate abides on the south shoreline of Geneva Lake.
Built by Chicago hotelier Tracy Drake in 1900, it was dubbed "Aloha Lodge," for its sweeping lake views that reminded the Drakes of their many extended stays and friendships in Hawaii.
Subsequent owners nearly tripled the estate's footprint, while painstakingly restoring the original home's living spaces. Its eight bedrooms, eleven full bathrooms, and five partial bathrooms luxuriate in their historic grandeur of finishes, fixtures, and architectural details.
The property stretches across 368 feet of shoreline, with five boat slips, the three-bedroom Captain's House for guests, and an 1,800-square-foot Train Station building, which houses an elaborate model railroad.
Adding to the splendor are glorious wooded gardens with panoramic vistas of Lake Geneva Country Club and downtown Lake Geneva.


3.

Four Hearts Ranch

in British Columbia, Canada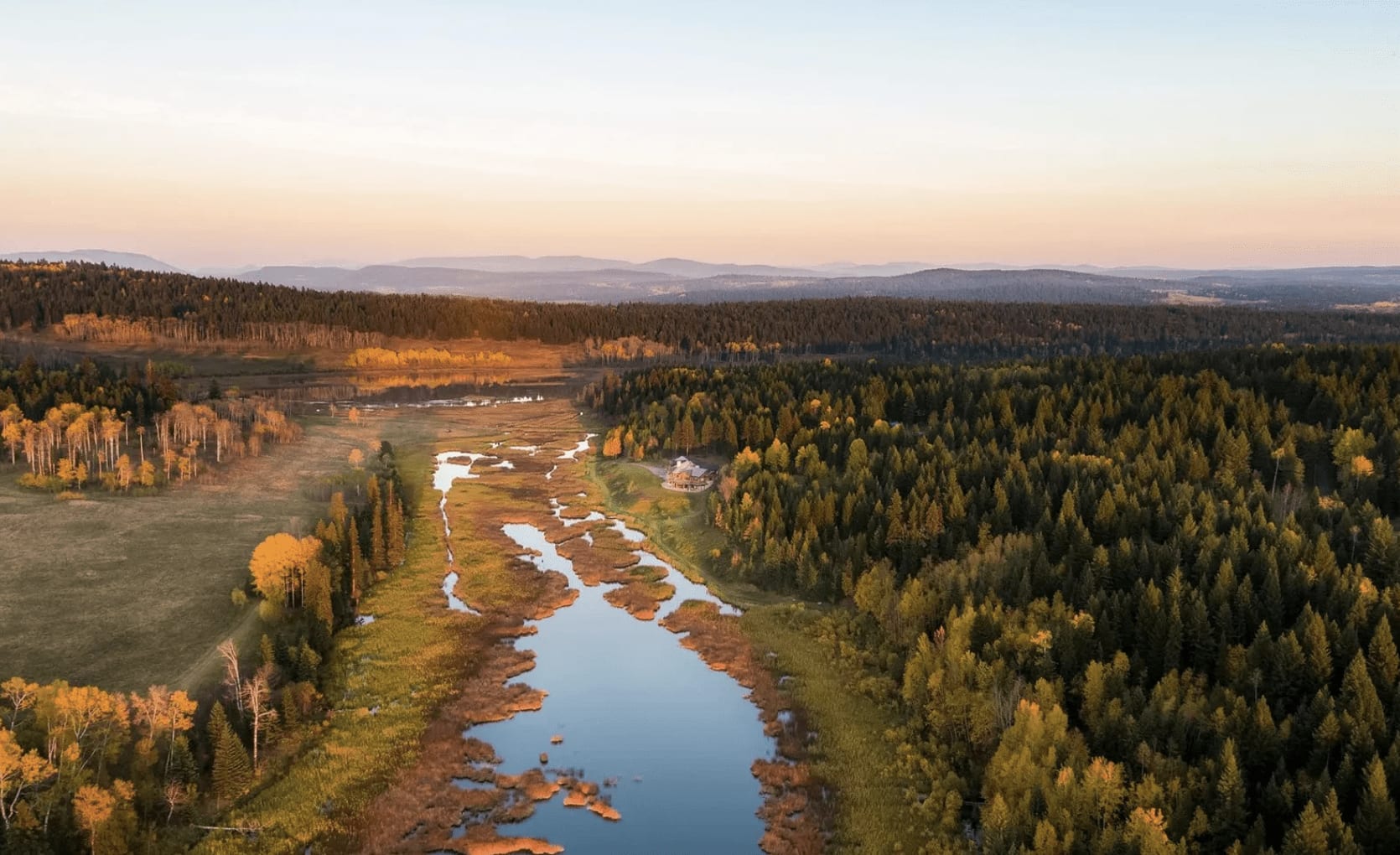 This 5,925-acre wilderness preserve in the South Cariboo Mountains of British Columbia includes four private lakes, as well as eight stand-alone residences, an equestrian center, and an aircraft hangar with airstrip.
Four Hearts Ranch is quite simply a wild, Canadian paradise.
This biodiverse expanse in British Columbia's South Cariboo Mountains encompasses 5,925 acres of forest, pasture, grasslands, lakes, river gorges, and preserved wetlands, all home to a diverse array of wildlife.
Four Hearts Ranch has been a multigenerational family compound since the current owners began acquiring parcels of land in 2008.
The homestead comprises eight stand-alone residences, including the main house—a 10,000-square-foot log mansion built in harmony with the landscape.
The private lakes (four in total) include one of British Columbia's top fly-fishing spots. The equestrian center is a world-class facility with stabling for 10 horses, an indoor arena, hay barn, carpentry shop, wrangler's cottage, round pen, and acres of fenced pastures. Adding to the impressive list of amenities are an aircraft hangar, private airstrip, and a network of roads.


4. Private Estate in Gozzer Ranch Golf & Lake Club, Harrison, Idaho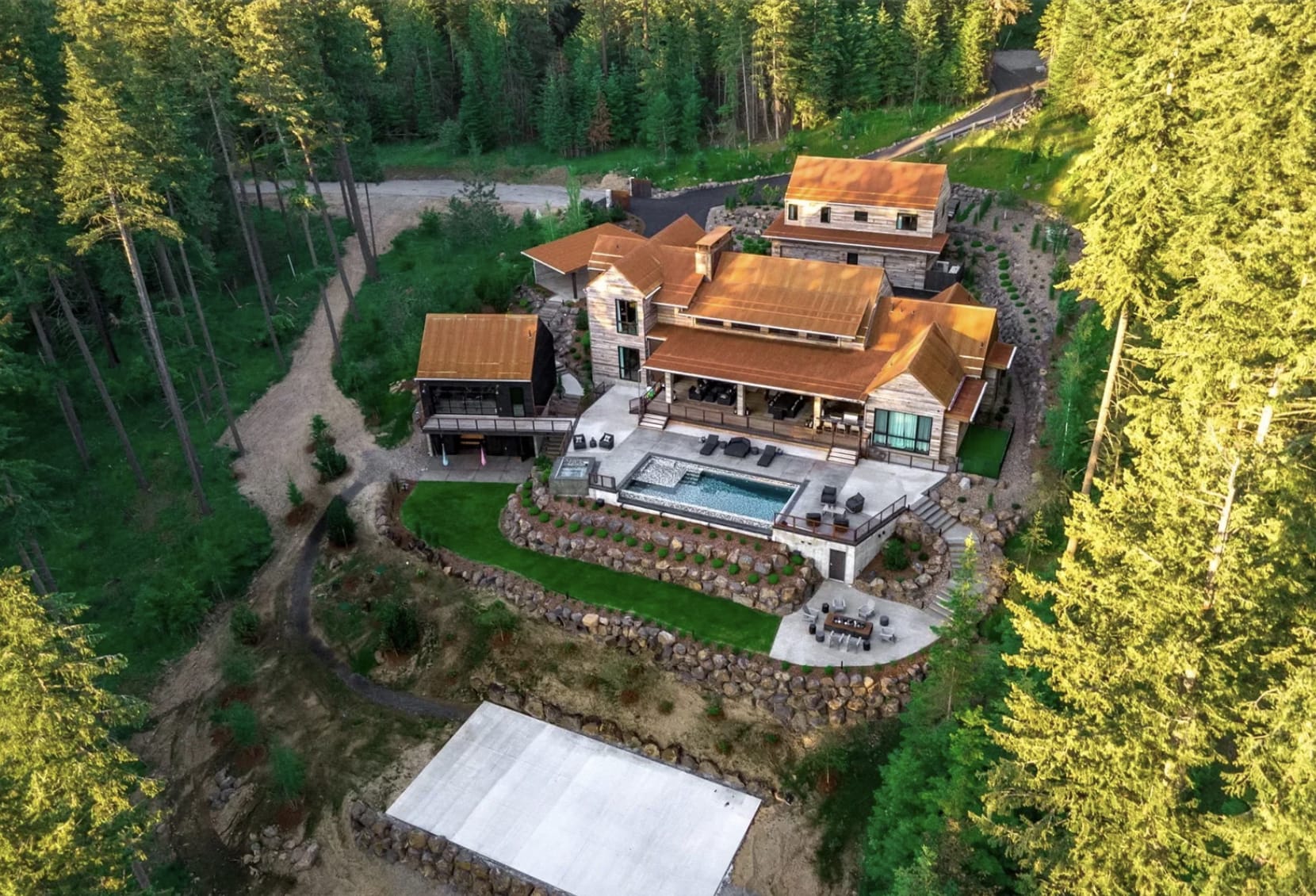 This luxurious, custom-built estate in Gozzer Ranch Golf & Lake Club borders 27 acres of forest conservation land on the eastern flank of Idaho's Lake Coeur d'Alene.
Privacy and exclusivity are the hallmarks of this custom-built estate in the members-only gated residential community of northern Idaho's Gozzer Ranch Golf & Lake Club.
The main floor, with white oak floors throughout, provides an expansive, open-concept living and dining space served by a chef's dream kitchen.
There are seven bedrooms and eight-and-a-half bathrooms, including an owner's suite with a walk-in closet, dual-sink vanity, free-standing tub, and dual, oversized shower.
At the rear of the house is a covered deck and open patio with a heated stainless-steel pool and spa, fire pit, built-in barbecue, pickleball/sports court—and a dog run.
The detached garage holds a guest suite above it with two more bedrooms, two baths, a kitchenette and laundry. A private gym with a separate massage room and a playroom with two half-baths complete the amenities. The ranch's clubhouse is a golf cart ride away by a private trail.


5.

Hacienda La

P

acifica

in

Cañas

, Guanacaste, Costa Rica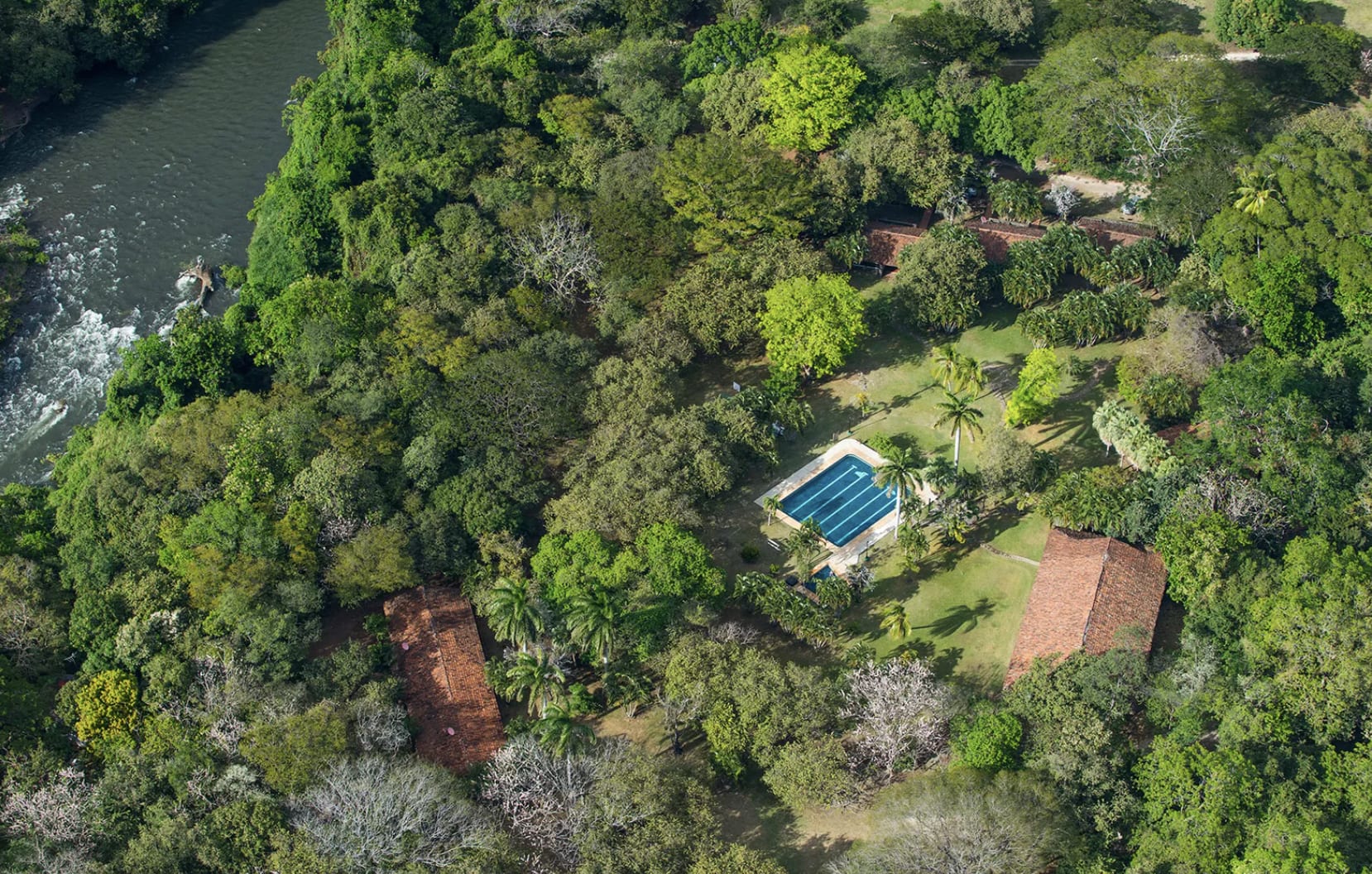 Hacienda La Pacifica is a 6,500-acre rainforest retreat on Costa Rica's Guanacaste Coast. 
A fully operational hotel, dude ranch, and eco-resort are the centerpiece of this historic hacienda in the lush forest preserves of Costa Rica's Guanacaste province.
Established in 1885 by former President Bernardo Soto Alfaro (and named for his wife Pacifica), the estate comprises 6,500 acres of land and infrastructure: road systems, lakes, ponds, dikes, dams, water gates, pastures; farm equipment and buildings, a pool complex, and equestrian facilities including corrals and pastures.
The Tempisque valley irrigation aqueduct, rivers and streams with water concessions allow a potentially limitless water supply for forestry, cattle, horses, sugarcane, and rice production.
The resort also provides executive houses and a full-service village for ranch staff and their families.


6.

Villa

Mosca

Bianca

in Lesa, Novara, Italy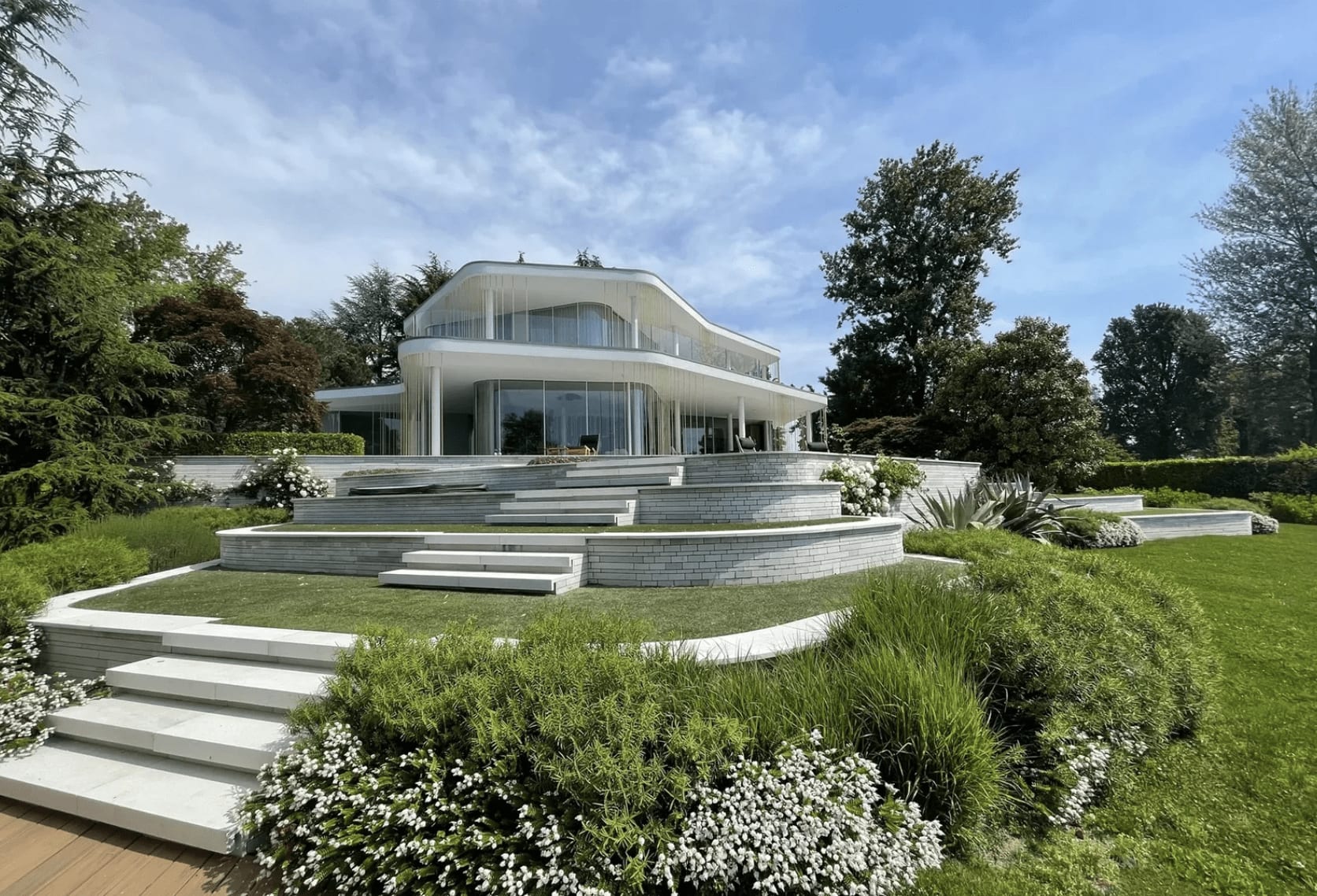 Villa Mosca Bianca, a modernist lake house on the shores of Italy's Lago Maggiore, perfectly melds contemporary high-tech living with gracious environmental sensitivity.
Villa Mosca Bianca offers a haven of tranquility and connection to nature.
This modernist lake house on Italy's Lago Maggiore is the vision of Design Haus Liberty: Its architecture and breathtaking views have been featured in several architectural journals and international advertising campaigns.
The core of the house is a Zen-like garden atrium with bamboo trees. Above, a vast skylight floods the interiors with natural light and visually connects the surrounding rooms and central staircase.
The atrium also serves as a passive air and rainwater collection system for the villa. Other sustainable features include solar panels and heat pumps, which produce 60 percent of the home's energy.
The villa's undulating perimeter and projecting, finger-like terraces are ideal for yoga, swimming, gardening, reading, and alfresco dining. An organic fruit and vegetable garden and old Lebanon Cedars add to the allure.
The property is a world away, yet just 28 miles from Milan Malpensa international airport. Milan city center—Italy's business and fashion capital—is 50 miles away.


7.

Lake Vichuquen Estate in Talca, Chile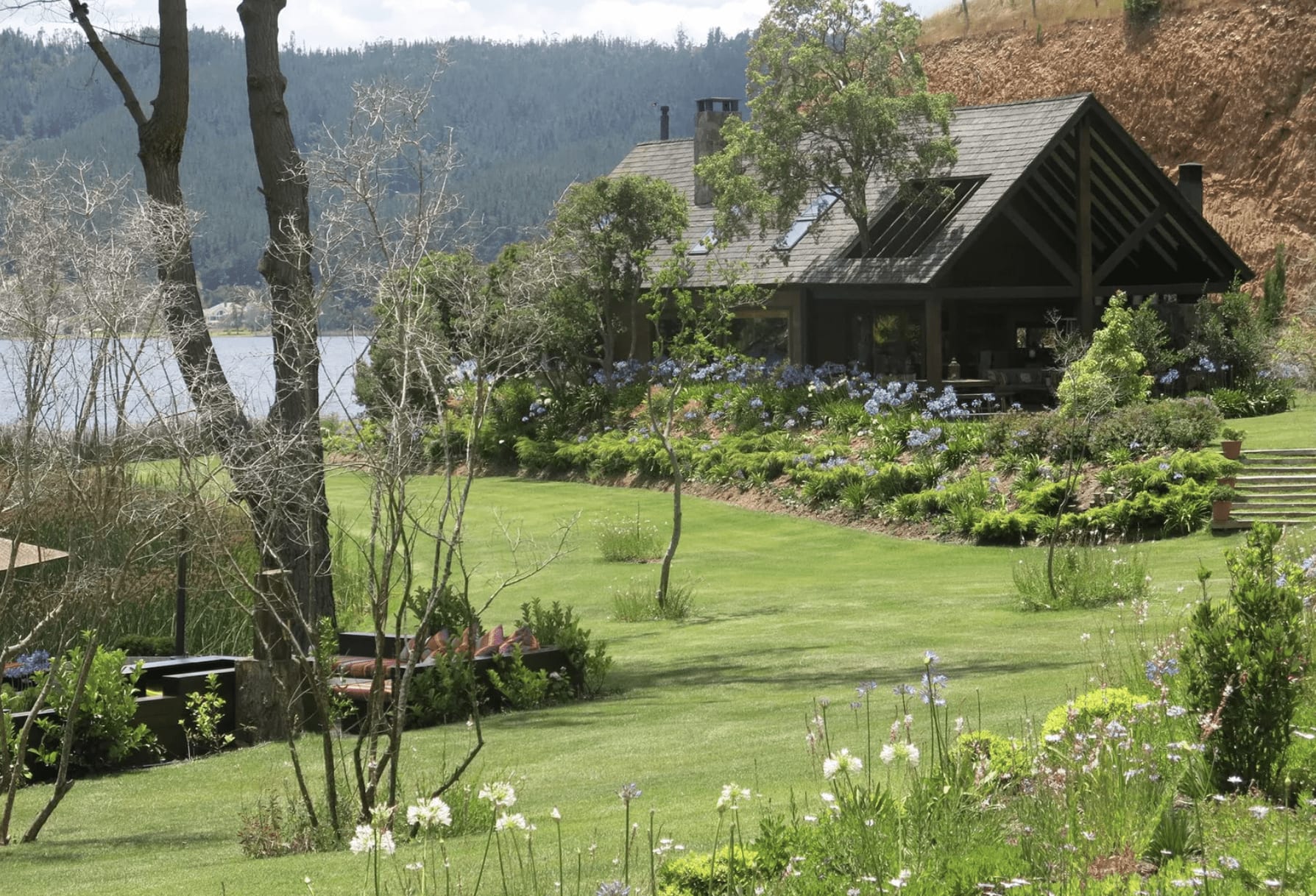 This picturesque property on 7.5 acres of idyllic gardens has 500 feet of private lakefront on Lake Vichuquen in Chile's Colchagua wine valley.
This waterfront haven overlooks Lake Vichuquén near Chile's famous wine region of Colchagua Valley.
The idyllic 7.5-acre estate has nearly 500 feet of private shorefront on "Love Harbor," the deepest part of Lake Vichuquén. There are two residences, a traditional lodge-style main house and a guest house, offering a total of 4,305 square feet of living space.
The alfresco living spaces include a lakeside deck with hot tub, lovely gardens with native plants and flowers, woodland, and lawns, which lead to the water's edge.