Welcome to Royal Oak
This diverse community is known as the "city of trees" and processes a unique sense of place, culture and identity.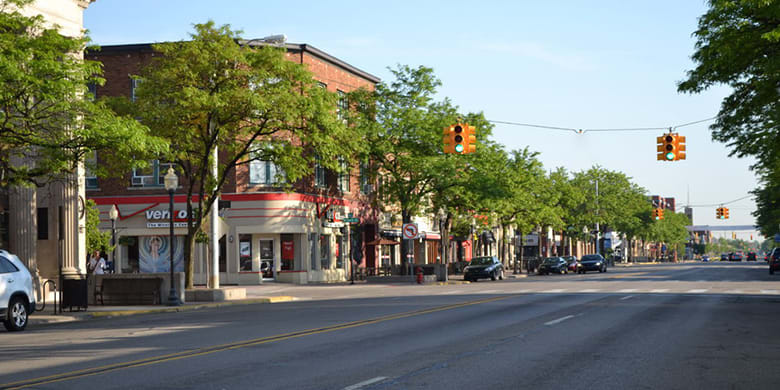 The
City of Royal Oak
requires no introduction to the Detroit metropolitan area. Conveniently located near several major thoroughfares, Royal Oak's location is prime. Royal Oak has maintained the appeal of a small town, while affording many of the amenities of a large metropolis. Because of its respect for diversity, the city's composition is truly eclectic. The population represents a diverse mix of individuals, age groups, incomes, and myriad of residential home styles. From modern condos and townhouses, to Cape Cod and colonial style homes, this city offers a variety of housing options for its residents.
Downtown Royal Oak
has it all in terms of shopping, dining, and nightlife. Nowhere else in metro Detroit will you find a greater concentration of award-winning boutiques, restaurants, salons, galleries, and theaters. The renaissance of Royal Oak unveiled the city's charm. Visitors to Main, Washington and other downtown streets experience the city's unique sense of place and identity. This sentiment can be shared by pedestrians ambling along the downtown streetscapes that feature brick paving, street furniture, tree, and flower plantings. It can be felt among patrons of the theaters, upscale restaurants, coffee houses and distinctive shops. Visitors to downtown Royal Oak enjoy the pedestrian-friendly atmosphere and social interaction.
You will quickly realize why this city is often called the "City of Trees" with a quick visit to most residential neighborhoods that reveal large trees lining both sides of the street and meeting overhead, creating a thick, green canopy. Accounts by early Royal Oak residents describe the area as covered with enormous oak, beech, maple, basswood, linden, elm, hickory, tulip, black and white ash, black walnut and butternut trees. In 1936, the "City of Trees" committee was organized to study suitable tree types and promote their planting throughout the city. In 1938, the committee obtained 60 acorns that were direct descendants of the royal oak tree in England, from which the City of Royal Oak derived its name. The acorns were nurtured and grown at the Detroit Zoo, and some were transplanted to Memorial Park in 1948.