Is there an architecture more quintessentially American than the Shingle Style? Yale architectural historian Vincent Joseph Scully, who coined the term, called it "the architecture of the American summer."
Born in the 1880s in American seaside towns and genteel, wooded suburbs, the style unified complex forms with a cladding of cedar shingles. It emphasized the horizontal with rambling verandas and gambrel roofs, yet with the asymmetrical punctuation of towers, balconies, turrets, gables, and dormers.
The late 19th century was an era of superb craftsmanship and design, but the Shingle Style's costs of construction and materials kept it at the high end of fashion—outside the mainstream—until it went out of style in the 20th century.
Scully, whose scholarship helped revive the movement, called it America's return to "simple, truthful places."
In this Luxury Defined collection of homes, we present five variations of the Shingle Style—some old, some new—but all with an air of rustic simplicity, understated elegance, and an endless summer.


1.

Residence on Shelburne Farms

, Shelburne, Vermont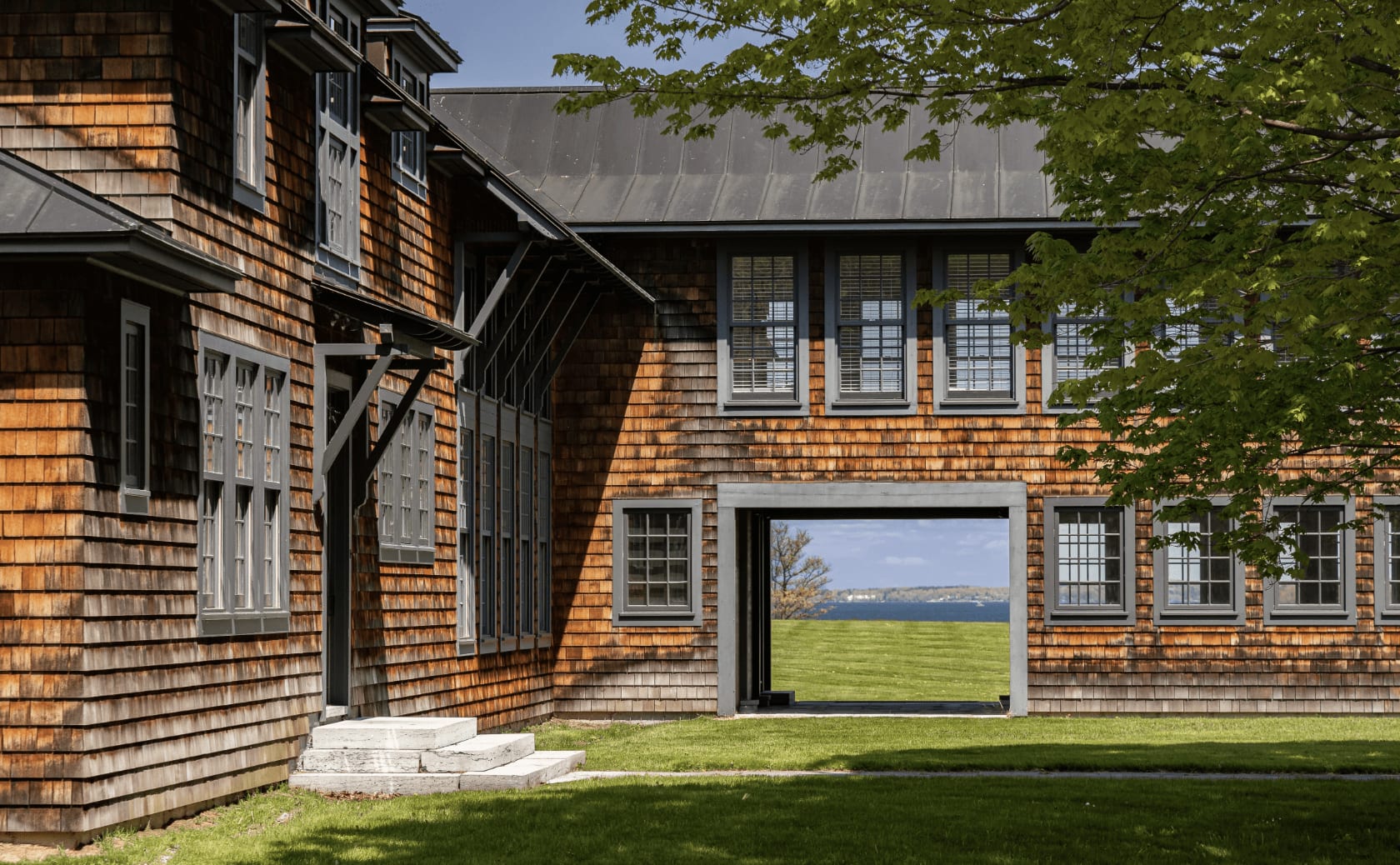 Set within 22 pastoral acres on the shores of Lake Champlin, this Shingle Style residence offers a rare opportunity to live in Shelburne Farms, one of Vermont's most treasured landscapes.
This idyllic, 22-acre private retreat is one of just seven private homes within Shelburne Farms, a Gilded Age estate on Lake Champlain, Vermont.
The original 3,800-acre farm was established in 1886 by American heiress Eliza Osgood Vanderbilt Webb and Dr. William Seward Webb. The grounds were laid out under the direction of the great landscape architect Frederick Law Olmsted, best known as the designer of New York City's Central Park.
The magnificent Shingle Style main residence is perched on a ridge to maximize the views of Lake Champlain, the Adirondacks, and the Green Mountains.
The light-filled interiors are perfect for entertaining guests or enjoying quiet moments with family. The centerpiece is the great room, with its three-season screened-in porch, offering westerly and northerly lake views.
The property also includes a separate guest house, storage barn, and 836 feet of private shoreline on Lake Champlain.


2.

Country Compound

in Lexington, Massachusetts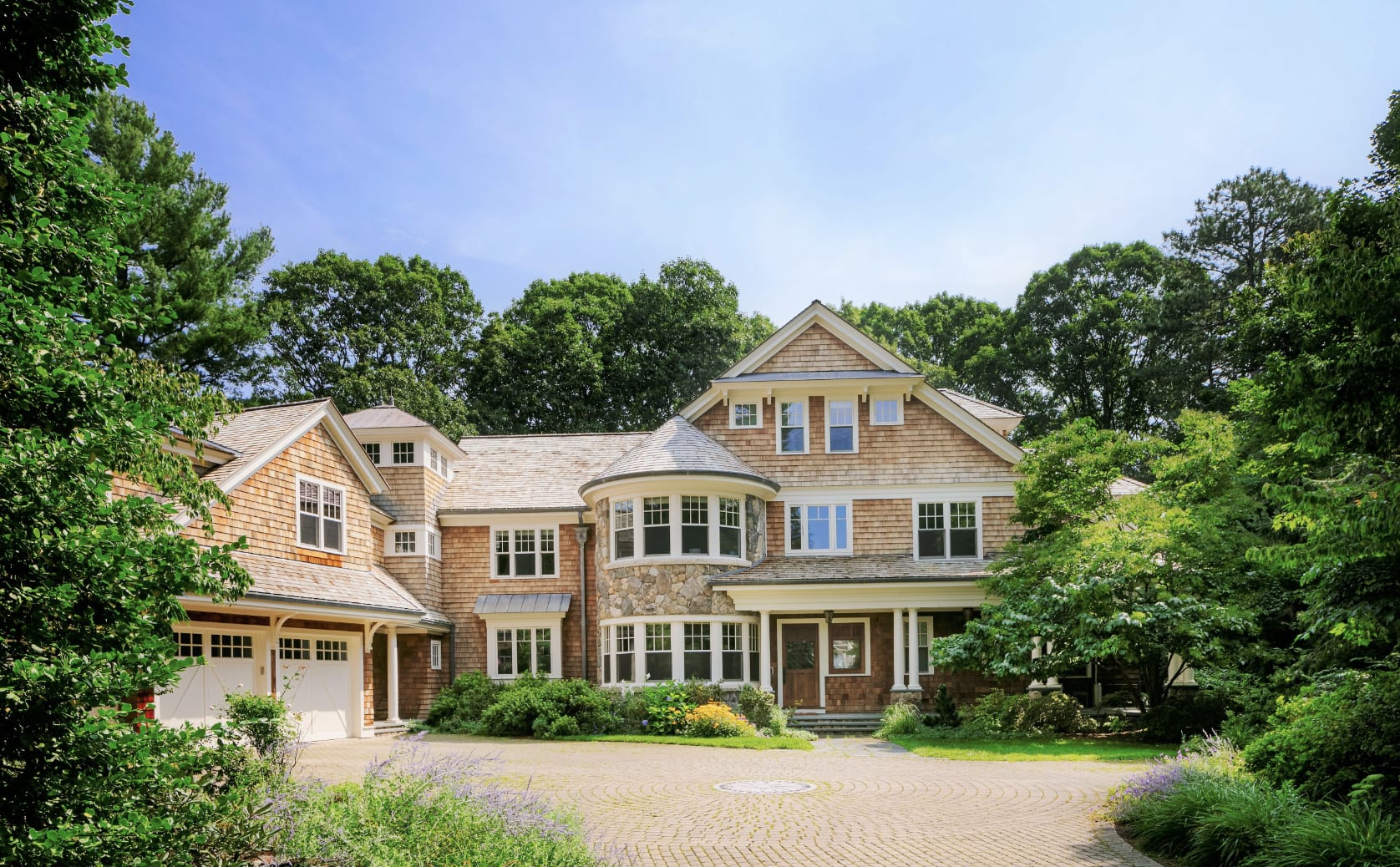 This secluded country compound in the historic town of Lexington, Massachusetts, includes a restored 19th-century cedar-shingle house and a 21st-century take on the classic Shingle Style.
This serene private compound of two elegant homes abides on 3.3 wooded acres abutting Chiesa Farm conservation lands in the historic Boston suburb of Lexington, Massachusetts. 
The original cedar-shingle residence, built in the 19th century, sits at the front of the property, while the main residence, a modern reinterpretation of the classic Shingle Style, is set back at the end of a private driveway.
In the main house, oversized windows, a screened porch, and expansive patios and balconies frame the views of the surrounding woodland. Inside, four floors of luxurious living space include a sports-themed, top-floor turret and a lower-level recreation suite with an exercise room, theater, wine cellar, and three-car garage. 
Privately situated, yet connected to the main house by a shared sports court, the original cedar-shingle house offers an additional 2,364 square feet of living space with three bedrooms.
Adding to the allure are professionally landscaped gardens with a waterfall, koi pond, and mature trees. 


3. Stonescape on Deer Isle, Maine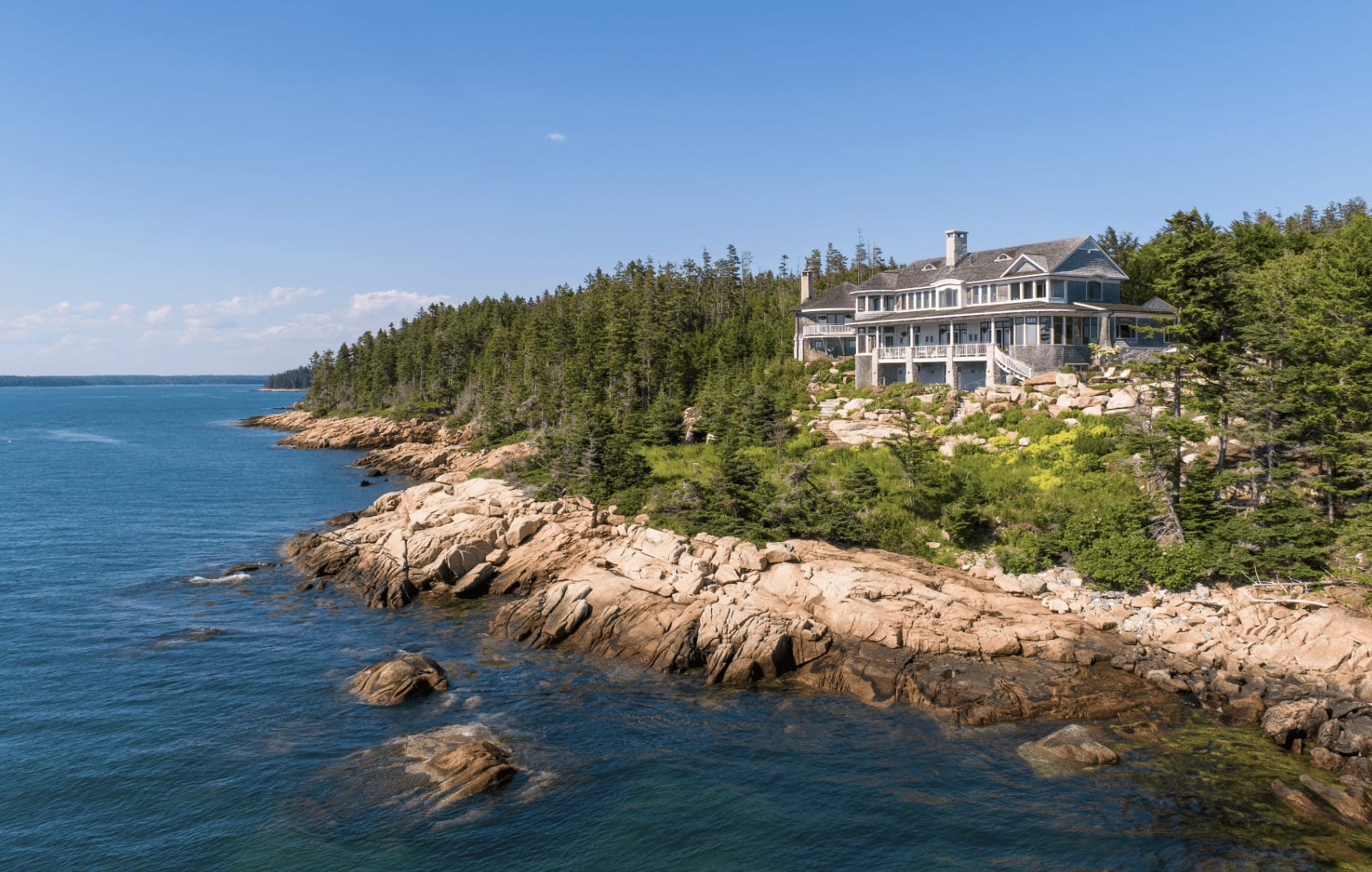 The rambling, seaside cottages of Maine are the inspiration for Stonescape, a 21st-century waterfront estate on the Penobscot Bay.
Perched on a rocky ledge overlooking the Penobscot Bay, Stonescape evokes the classic Shingle Style Maine cottage, with its porte cochere, turrets, coved ceilings, beadboard wainscoting, interior decorative columns and finishes.
At its heart, though, Stonescape is utterly contemporary: Granite counters, extensive porches, decks and balconies with stunning views, and a stone-paved terrace with hot tub, grill, and outdoor pizza oven are among its 21st-century amenities.
The focal point of the open living space in this year-round residence is its dramatic fireplace of native granite. Adjoining are the dining room with bow-style casement windows and a spacious chef-friendly gourmet kitchen, and wood-paneled library and office.
A custom ironwork passenger elevator rises to the three en suite bedrooms on the second floor. A two bedroom, two-bath guest house includes a full kitchen, fireplace, balcony and living space over a two-car garage.
Set on 10.69 acres with 1,374 feet of shorefront, Stonescape blends native flora with colorful perennial plantings offering natural beauty and total privacy. Walking paths and moss trails throughout the property allow easy access to neighboring Barred Island Preserve.


4.

Star Hill Farm

in South Woodstock, Vermont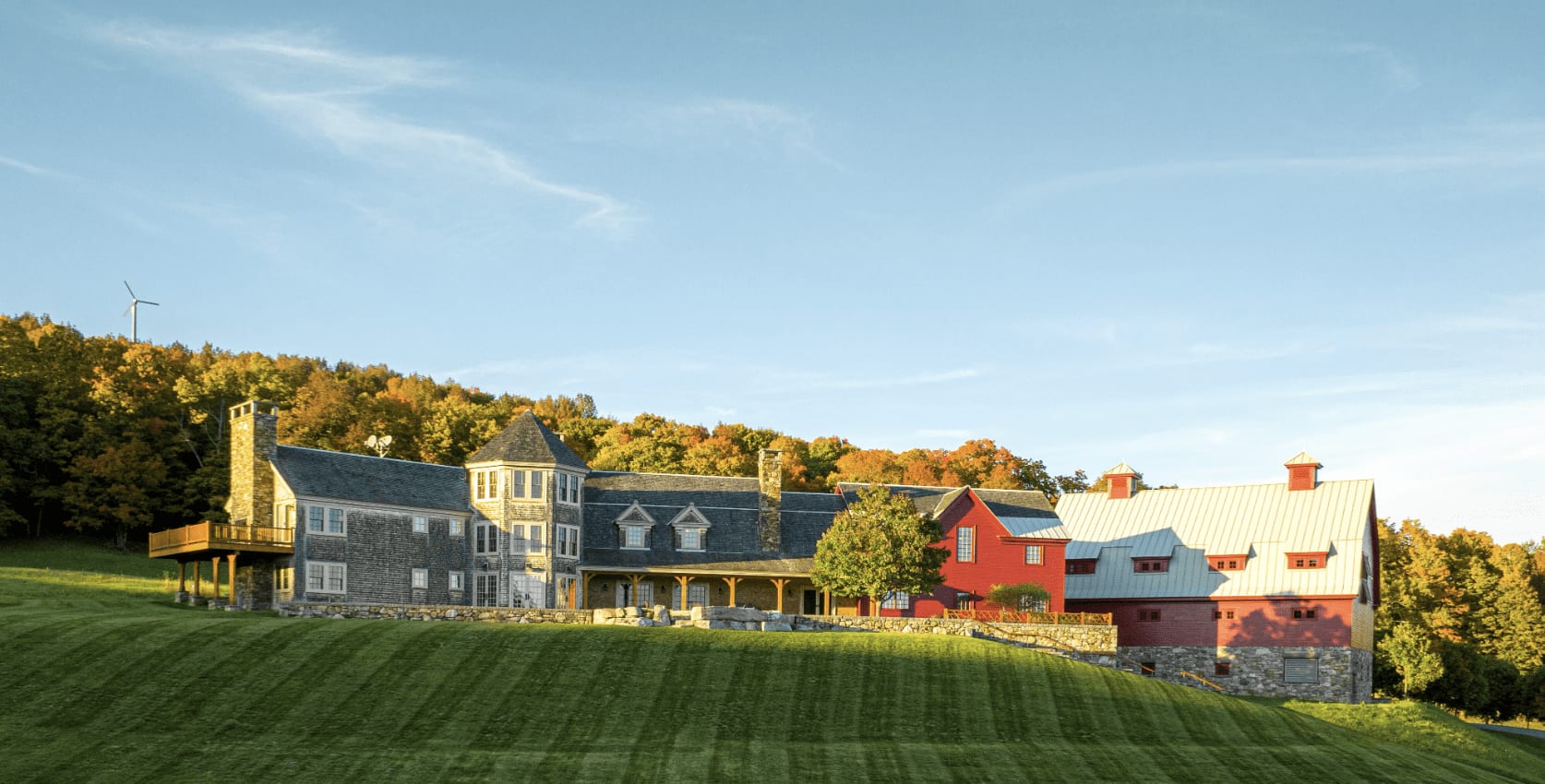 A nature-lover's sanctuary in the hills of South Woodstock, Vermont, Star Hill Farm is a private 183-acre estate with an 11,400-square-foot main house, a guest house, and two barns (including a classic gambrel barn reimagined as a gymnasium).
One of Vermont's finest properties, Star Hill Farm encompasses 183 acres of fields, forests, woodland trails, wetlands, natural springs, and a swimming pond.
The original late-1700s Cape house and barn still stand. These classic hill-farm structures were beautifully restored and thoughtfully updated into a charming two-bedroom guest house and generously sized party barn, respectively, both with beautiful, exposed beams.
The principal residence, built in 2010, offers 11,400 square feet of fully furnished living space arranged into three separate areas: the main living area; the owner's quarters (three bedrooms, including a primary suite with its own deck); and the guest wing (a games room, three bedrooms, and a bunkroom that sleeps eight). 
East of the guest wing is the gymnasium—a professional-grade athletic facility designed for indoor sports. While the interior is like a grand lodge of the American West, the exterior with its white cedar shingles and red gambrel barn, is in the traditional New England style.


5.

Dartholm

 in Southwest Harbor, Maine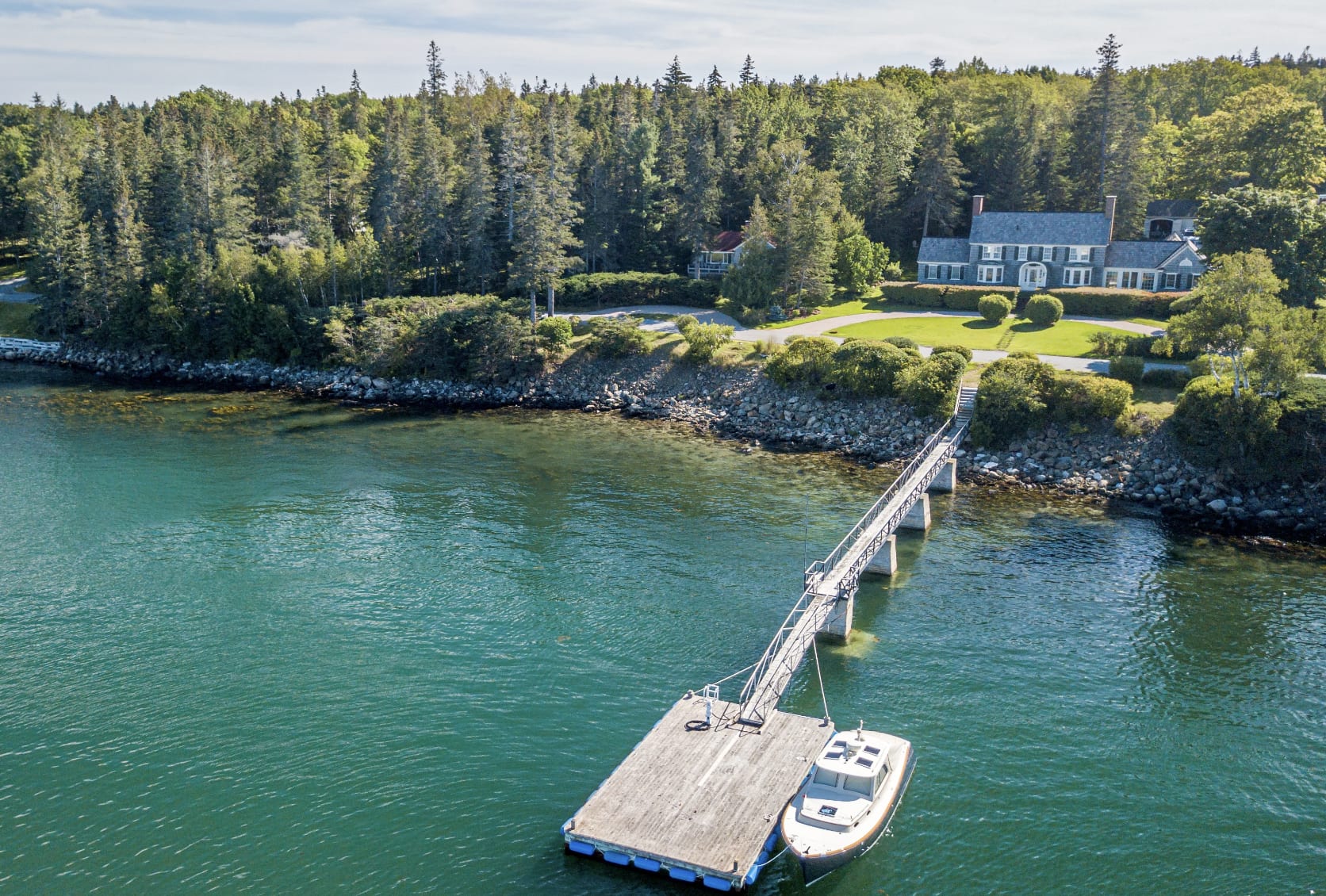 Built at the turn of the 20th century, Dartholm is a grand waterfront home on Mount Desert Island, Maine. The property includes a 1900s Shingle Style main residence, a charming summer cottage, landscaped gardens, and a private dock on Southwest Harbor.
This waterfront estate on Shore Road in the Maine town of Southwest Harbor has an unusual history. Built as a dance hall in the early 1900s, Dartholm was repurposed as the summer residence of the president of Dartmouth College (hence the name).
Since then, the grand Shingle Style cottage has been beautifully restored and renovated for year-round use, with traditional elements balanced with all the creature comforts.
Dartholm offers a deepwater dock and two moorings and a deck to take in the views of Somes Sound, the Cranberry Islands, and the mountains of Acadia National Park.
There are five bedrooms in the main house with the primary suite and an additional bedroom suite on the first floor, a warm and inviting living room, cottage-style dining room, modern chef's kitchen and den.
The seasonal one-bedroom guest house provides living space with a full kitchen, bathroom, and laundry room.
The grounds include a two-car garage, garden shed, and landscaped lawns. Southwest Harbor, a vibrant year-round community and yachting destination, has a multitude of quaint restaurants and shops.