Appletree Cottage, the Thatch House, Romans Halt, names such as these take us to simpler places and times. As architectural gestures, they are thoughtfully composed and organized around the ease of simply living.
Romantic? Aways. Rustic, perhaps, but not countrified. Quaint? In its strictest senses: pleasingly old-fashioned, unusual, marked by skillful design, beauty, or elegance: Never cute, self-conscious or—brace for it!—"twee." 
We present five delightful dwellings in search of picture postcards to call home. Consider a chocolate-box Tudor cottage in Wiltshire, England; a Victorian country cottage in Kildare, Ireland; a lodge-style retreat on the ski slopes of Aspen; a lake house in Ontario's Malibu of the North; and a Hobbit house (this one on the shores of Lake Michigan).
Seeking a life simpler, slower, calmer, and less complicated? Halt here, weary Roman.


1.

Appletre

e

C

o

ttage

in Rathmore, County Kildare, Ireland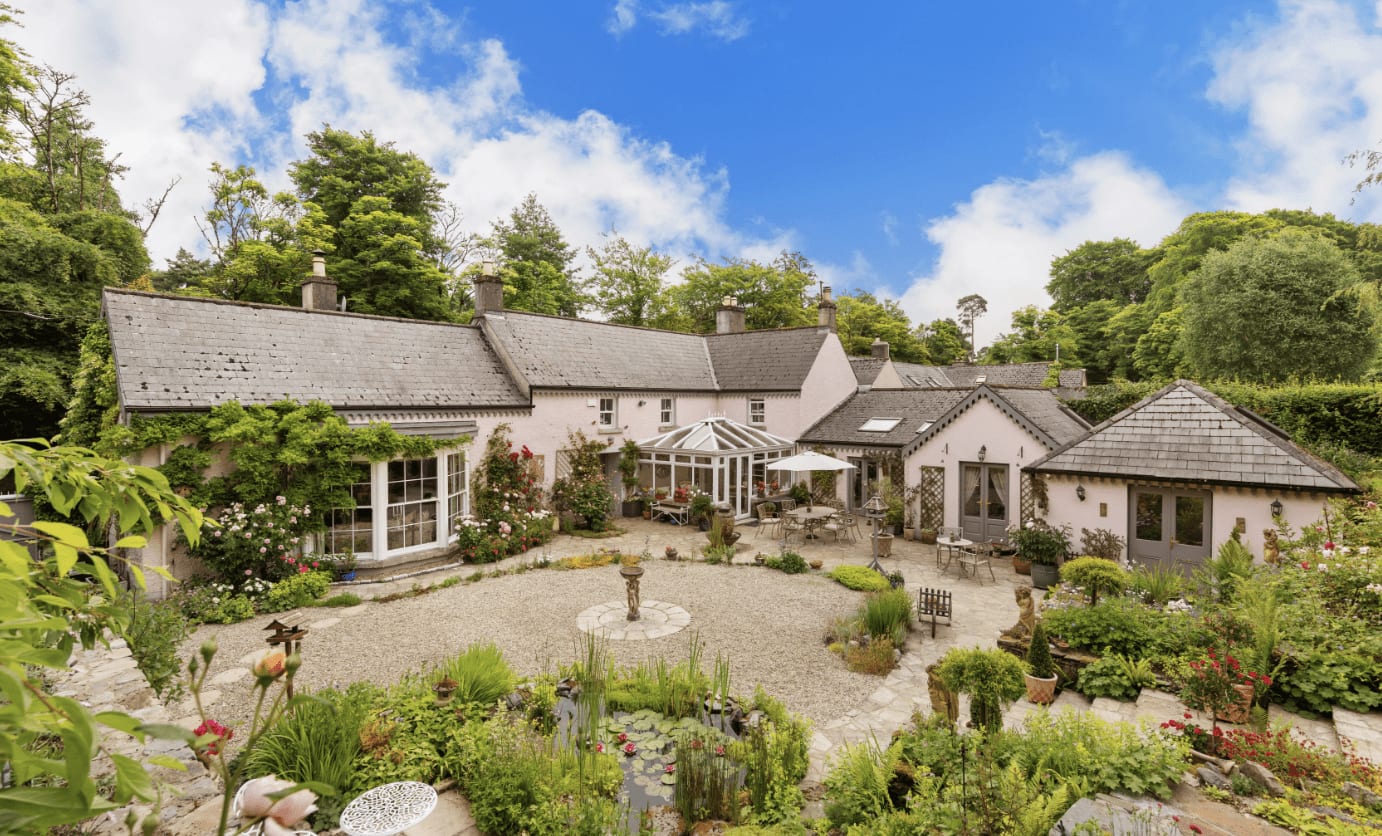 Enclosing a half-acre of terraced gardens, Appletree Cottage offers understated Victorian charm with all the creature comforts of today. 
Appletree Cottage was built in the early 18th century to house Huguenot silk weavers fleeing persecution in France. Today, the property encompasses 2,508 square feet, as a two-story, three-bedroom Victorian cottage upgraded for the 21st century.
The house wraps itself around a courtyard patio and a half-acre of enclosed south-facing, terraced country gardens. The entrance hall, repurposed as a dining space, has a cast iron fireplace, hardwood flooring, a shiplap paneled ceiling, and a custom-crafted half-door opening to the patio. The stairs rise to the three bedrooms.
To the right of the hall, a graceful drawing room basks in natural light from a bespoke, floor-to-ceiling double-glazed bay window that frames the gardens. A minstrels' gallery under its high, vaulted ceiling overlooks a porthole window and an elegant, period fireplace with inset wood-burning stove. 
Left of the hall, the cozy family room provides a cast iron Victorian fireplace with a stove, parquet flooring, a built-in corner drinks cabinet, a built-in TV and under-stairs storage, all served by a comfortable country kitchen with contemporary appliances, cupboards, and breakfast space. 
French doors lead to a light-filled conservatory, with a travertine tiled floor, which flows to the gardens and patio for seamless indoor-outdoor living. Timeless, elegant, cozy but uncrowded, Appletree Cottage offers Rathmore's relaxed village life just 30 minutes from Dublin.


2.

The Thatch House

in Charlevoix, Michigan, United States
A Hobbit-inspired wonderland, the Thatch House in Charlevoix, Michigan, would be at home in J.R.R. Tolkien's Shire. 
This idyllic thatched cottage overlooking Lake Michigan is an escape from the ordinary. The Thatch House, built in 1918, is the first of the "Mushroom" or "Hobbit" houses designed by the visionary local builder Earl A. Young.
In 2015, the property underwent an extensive three-year restoration by its owner, Dr. Michael Seitz. With meticulous attention to detail, he recreated the seven-bedroom, seven-bathroom home and the detached guest house in the essence of Young's storybook style.
Within the walls of the Arts and Crafts-inspired main residence are 4,000 square feet of beautifully appointed living space with heated wood floors, timber beamed ceilings, arched doors, original wood-burning fireplaces, and dormer windows to frame the views of Lake Michigan.
The crowning glory is the gently sloping natural reed roof crafted from the finest natural thatch, hand-reaped in the Netherlands, and carefully transported to the United States.
A meandering stone path through the wooded gardens leads to the guest house, a Hobbit-like hideaway with 2,000 square feet of cozy living space.
Steps away is a sandy beach on Lake Michigan. Downtown Charlevoix, with its shops and restaurants, marina, and beaches, is a leisurely stroll or bike ride.


3.

Romans

H

alt

in Mildenhall, Wiltshire, England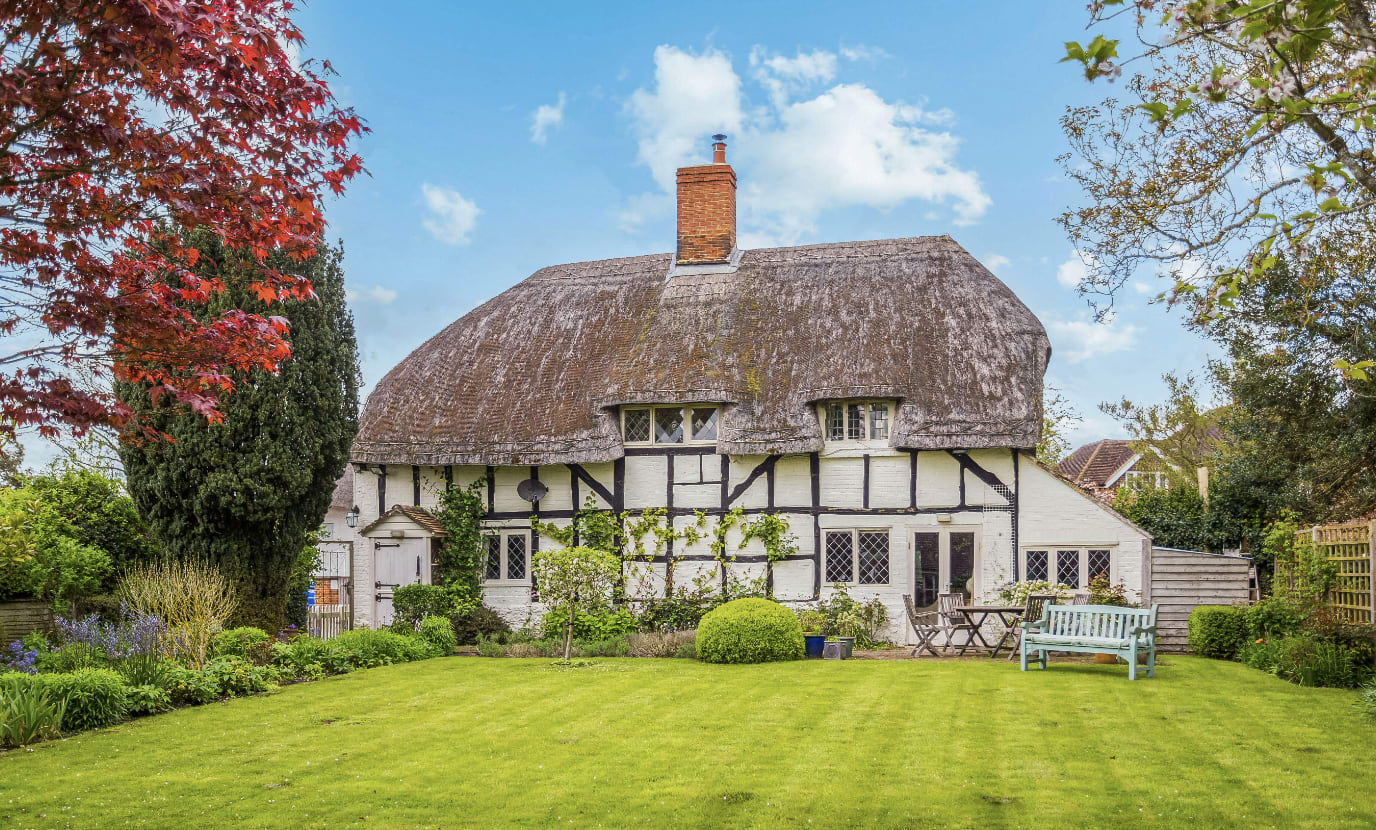 The ancient, thatched roof and beamed ceilings of Romans Halt cottage enclose its contemporary comforts and timeless graces. Perhaps the Romans left too soon.
Romans Halt, once three cottages and thought to date from the 16th century, is a Grade II-listed property of timber frame and painted brick elevations with a thatched roof and diamond-leaded timber casement windows. 
The spacious reception room has an inglenook fireplace with a wood-burning stove, and doors leading through to the study and to a brick terrace and the lawned garden. Both the reception room and the grand dining room are south facing. The kitchen/breakfast room has a thoroughly modern AGA range.
Upstairs is a substantial principal suite overlooking the garden. Two further good-sized double bedrooms and a single bedroom share a bathroom. 
All told, the property encompasses just under a third of an acre. The private garden is enclosed by trees and hedging, with colorful flower borders. There are raised beds for growing plants and vegetables, a greenhouse, and a garden shed. At the rear is a guest annex with two bedrooms and a bathroom. 
The picturesque village of Mildenhall, near Marlborough, is in a conservation-designated Area of Outstanding Natural Beauty. This quiet village offers many walks including along the beautiful River Kennett, across the Marlborough Downs and into ancient Savernake Forest. 


4.

Contemporary Ski

Lodge

in Snowmass Village, Colorado, United States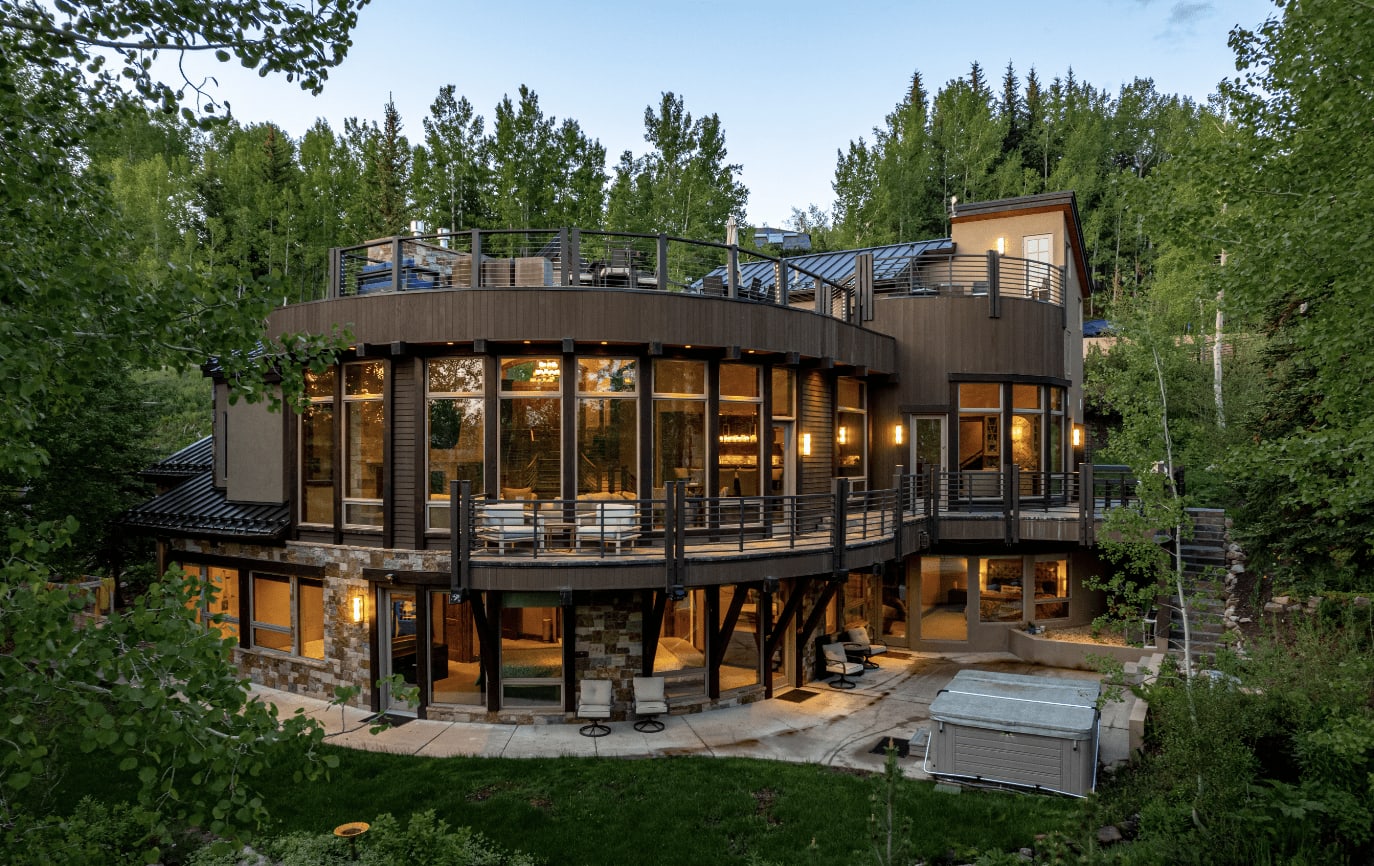 This ski retreat in Snowmass Village, Colorado, reimagines the log cabin for the contemporary lifestyle. 
This contemporary mountain home is a skier's paradise in Aspen Snowmass Ski Resort.
The home is situated slope-side with direct ski-in, ski-out access to Adams Avenue ski trail; from there, it's a short run down to the Base Village ski lifts.
The timber and glass façade encloses 5,023 square feet of contemporary interiors with open-plan reception rooms, a chef's kitchen, and six bedrooms and six full bathrooms, including a luxuriously appointed primary suite, four guest rooms, and a four-bed bunk room. 
The rooftop deck, with its 360-degree views of the pine-clad slopes, is heated for year-round use. There's also a wraparound deck and a lower patio leading down to nearly an acre of wooded gardens with a hot tub, a pond, and a stream.
Just beyond are miles of trails, ideal for cross-country skiing, or hiking and biking come spring. The glitz and glamour of downtown Aspen are just half an hour away.

5. Scenic Lake House in Port Carling, Ontario, Canada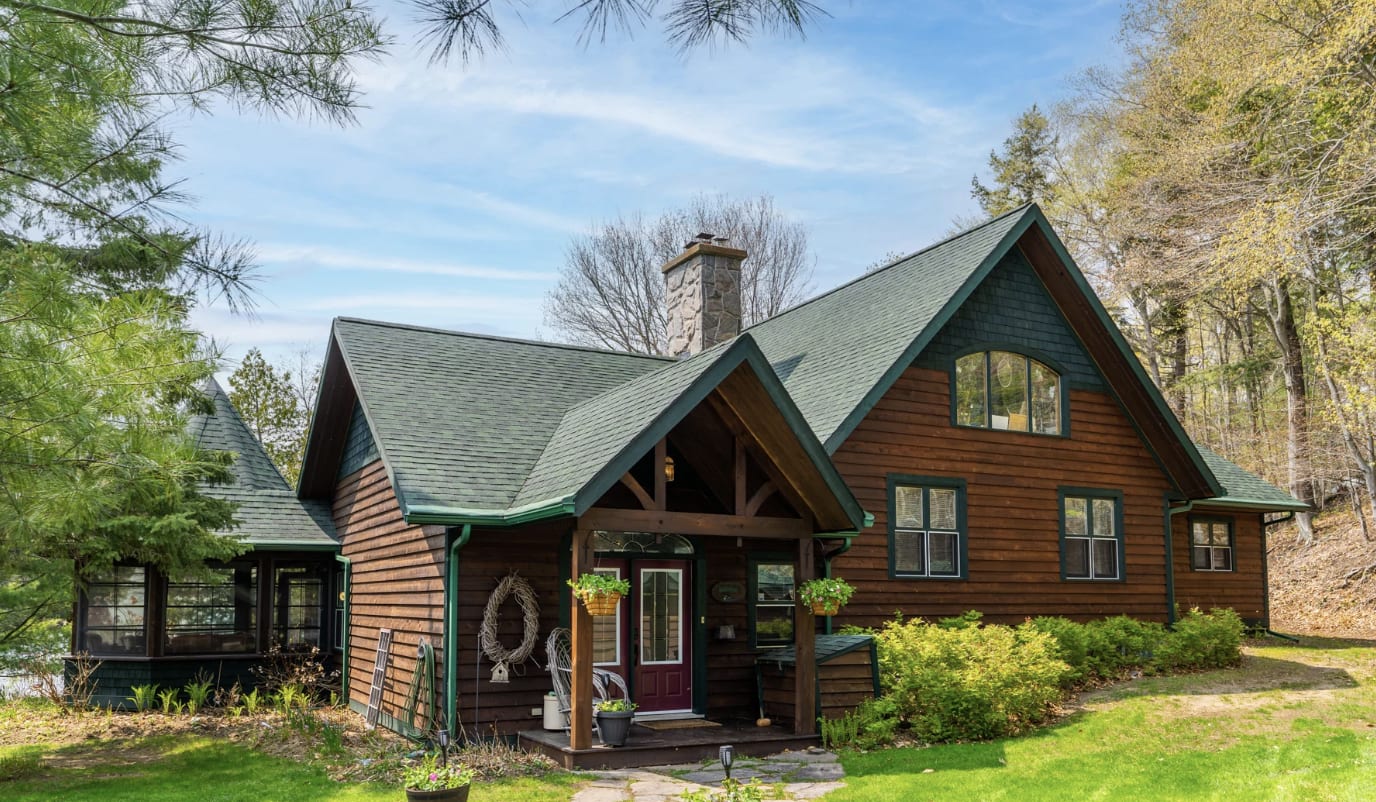 This lakefront cottage with a boathouse on Lake Joseph is in Ontario's Muskoka Lakes—a region often referred to as the Malibu of the North for all the Hollywood celebrities who have built homes along its shoreline.
This custom-crafted log home sits on the southern shore of Lake Joseph in Port Carling, Ontario.
Designed for year-round enjoyment, the property includes a principal residence, guest cabin, three-slip boathouse, two-car garage, and a workshop. 
The 3,400-square-foot, log-style main house is oriented to capture the sunset vistas over Cumberland Bay.
The exterior is crafted from local stone and Muskoka beveled cedar. Inside are vaulted timber ceilings and floors of Douglas fir. An octagonal screened sunroom, a lakeside dining room, office, game room, gym, and sauna are just a few of the appointments.
The guest house sits at the water's edge. Nearby, a grand boathouse, with three covered slips, doubles as a hangar for a seaplane. A lakeside spa, garage, and workshop complete the picture.