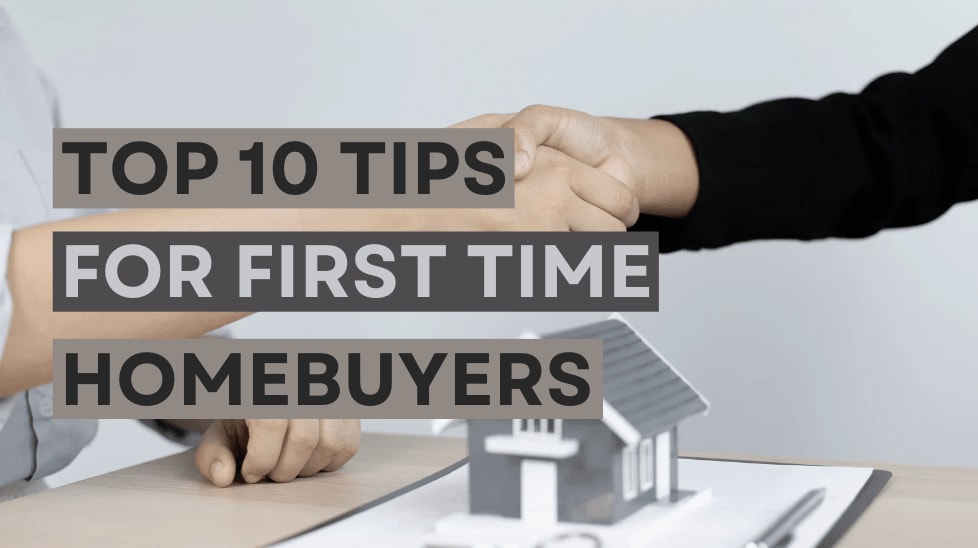 Buying your first home is an extremely exciting milestone, but it can also be a super scary process filled with complexities and endless decisions. Are you a first-time home buyer that wants to ensure that knowledgeable choices are being made and that they'll be led down the right path to their dream home?

To help you along this journey, we've compiled a list of what we think are the Top 10 Tips that Every First-Time Homebuyer Should Know!

Let's dive in!

1. Determine your budget:
Before you start house hunting, it is crucial to put a budget in place. Evaluate your finances, consider things such as your income, savings, and expenses, also thinking about consulting with a mortgage professional to come up with a realistic price range. Knowing your budget will help you focus your search and create more specifics.

2. Get pre-approved for a mortgage by a lender:
A great tip for strengthening the offer you're putting in and to demonstrate seriousness as a buyer, get pre-approved for a mortgage. This would typically involve a lender reviewing your financial profile and providing a conditional commitment for a loan amount. Getting pre-approval from the lender not only shows the seller that you're a qualified buyer (despite it being your first time!), but also helps you understand the maximum loan amount you can secure for your search.

3. Work with a real estate agent:
Finding and employing the services of a professional real estate agent who specializes in the desired area you're searching in can be a huge aid in the process, taking away a lot of stress. An experienced professional would have very valuable insights into the local market, access to listings that haven't hit the market yet, and the negotiation skills to secure a great deal for buyers. They can guide you through the entire process and act as your advocate!

4. Identify your must-haves as well as your not-so-imperative wishes:
Making a list of non-negotiables and preferences you'd like in your dream home can visualize and hone in your goals. Think about the number of bedrooms and bathrooms you'd require, the layout of the home, the yard size, and any other specific features that are important to you. Having clear ideas of what exactly you're in the market for will narrow down your options and make more effective decisions during your search.

5. Research a multitude of neighborhoods:
There are so many places out there! Explore different neighborhoods to find the one that suits your preferences best! Consider elements such as schools that are close by, your proximity to your place of work, city amenities, as well as safety. Visiting these neighborhoods at different times during the day can also give you a better sense of the area's characteristics and livability.

6. Attend open houses and inspections regularly:
Taking advantage of open houses and inspections can get you a firsthand look at potential properties being your dream home. Pay attention to things such as the condition of the home (inside and out), potential mishaps that will turn into maintenance or repair needs, and the feel of the neighborhood. Remember, staying true to yourself and your needs is the most important here. Don't hesitate to ask questions about the properties and gather as much intel as possible.

7. Conduct thorough inspections on your own:
Once you do find a home that you love, hire a qualified inspector to assess the property's condition. A thorough inspection can uncover droves of hidden issues that may affect the value or cost you a lot of money in the coming future. Use the report from the inspector to make informed decisions and negotiate any price adjustments to the list price if need be.

8. Understand the buying process:
Educating yourself about the entire home buying process from start to finish will make you more knowledgeable. Research! Learning key steps like making offers, negotiating, and completing the necessary paperwork can ensure you won't be stressed any step of the way. Knowing what to expect will reduce stress and empower you to be confident in making decisions throughout the transaction process.

9. Consider long-term plans:
Think and take into consideration your future plans and anything that may happen in your life soon. Are you planning to stay in a house for the long term or are you looking for a starter home? Are you planning to grow your family in the near future? Considering these questions such as these will help you choose a home that suits your lifestyle and will (hopefully) minimize the need for a move in the future.

10. Be patient and trust yourself:
Trust your instincts! Finding the perfect home can take awhile, and it is essential to be patient throughout the entire process. Don't rush into a decision if it doesn't feel right for any reason. With proper research and planning, guidance from professionals, and a clear idea of what you want, you will find your forever home in no time!

Congratulations on embarking on this daunting journey! If you trust yourself and follow all 10 of these steps, you can find the way!

Happy house hunting!